EVALUATION TOOLS
Take the CRAAP Test.
Evaluate web resources for:
Currency
Relevance
Authority
Accuracy
Purpose
(Thanks to Meriam Library University of California, Chico)
---
Is this journal scholarly?
Click here to find out.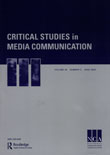 COMMUNICATION STUDIES
Find Books
Browse Subject Headings Online
Browse Call Numbers in the Stacks

Mass media
Motion pictures, radio, television
Social aspects of communications technology

302.23
302.234
303.484






The world's largest library catalog, covering books and other materials available in OCLC member libraries around the globe.
---
Find Articles
---
Find Websites
Your Librarian
Darla Haines
dvhaines@manchester.edu
Phone: 982-5949
Office: 112 Funderburg Library

---
Featured Resources

Encyclopedia of New Media
Reference 302.23 En19j

Search over 35 Million Hours of Television Broadcasts