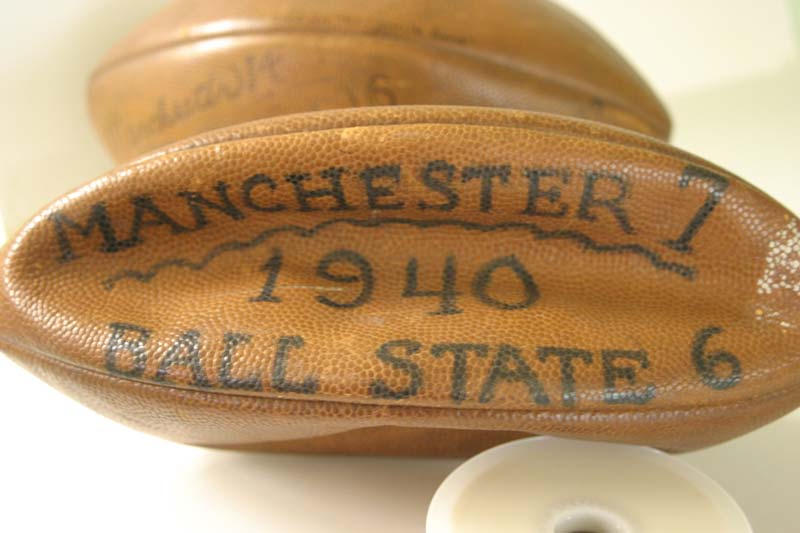 Excerpts from a history composed by Archivist, Ferne Baldwin
The inscription was simple enough. Manchester 7 Ball State 6 - 1940 - written on a football that almost seemed to say outloud how carefully it had been kept for more than 50 years. Here was the perfect symbol of one of Manchester's great sports rivalry stories in all our history. That symbol had found its way back to campus to the College Museum.*
.......
"That brings us to 1940. Enrollment at Manchester was 635. Of those, 361 were men. 65 were of those were out for football. It was an unusually heavy line up. Coach Burt could choose to put a line averaging 200 lbs on the field. It took some courage for players the size of Bob Brandon to practice each day wtih fellows nearly twice their size. Brandon was a back and the place kicker."
.......
"Then came the game wtih arch rival, the Cardinals. At the time, Manchester stood second in the Conference.....The headline in Oak Leaves told the story. 'Brandon scores seven points in final quarter to give Burtmen one point Victory.' It was a special victory before 4000 fans on Homecoming."
-------
"And Bob Brandon made the difference. His first kick went almost to the goal line an donce a Cardinal march to the goal line was halted when Bob was the last man between the runner and the Spartan goal. In the last quarter, after three carriers alternated down the field, Bob went around left end and 'flew' over a foe to cross the goal line. This 'golden toe' converted the extra point to put manchester in the lead at 7 to 6. So Bob Brandon could treasure a special football until his death in 1987."