EVALUATION TOOLS
Take the CRAAP Test.
Evaluate web resources for:
Currency
Relevance
Authority
Accuracy
Purpose
(Thanks to Meriam Library University of California, Chico)
---
Is this journal scholarly?
Click here to find out.
CHEMISTRY
Over 75,000 chemical compounds are indexed from over 350 web sites. You must register, but it is free.
ChemSynthesis is a freely accessible database of chemicals. This website contains substances with their synthesis references and physical properties such as melting point, boiling point and density. There are currently more than 40,000 compounds and more than 45,000 synthesis references in the database.
Comprehensive, peer-reviewed toxicology data for about 5,000 chemicals.
IR, UV, mass, and vibrational spectra, as well as themochemical, thermophysical, and ion energetics data on nearly 36,000 species. Compiled by the U.S. National Institute of Standards and Technology.
Full-text of all 70+ volumes of the Wiley publication Organic Syntheses. A compilation of selected syntheses of important organic compounds.
Periodic Table from the American Chemical Society.
Selected Internet Resources in Chemistry.
Your Librarian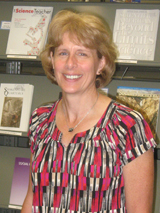 Jill Lichtsinn
jslichtsinn@manchester.edu
Phone: 982-5015
Office: 114 Funderburg Library

---