EVALUATION TOOLS
Take the CRAAP Test.
Evaluate web resources for:
Currency
Relevance
Authority
Accuracy
Purpose
(Thanks to Meriam Library University of California, Chico)
---
Is this journal scholarly?
Click here to find out.
COMMUNICATION STUDIES
Explore for Ideas
Need a paper topic? Look at articles in journals, magazines and newspapers (both in print and online). Find something that interests you, something you would like to explore.
Find Background Information
Put your topic in context with a general overview of the subject.
Identify Keywords
There is usually more than one way to describe your topic. As you gather background information, make a list of keywords you can use to search for books and articles in the library's databases.
Too many results? Use more specific keywords.
Too few results? Use more general keywords.
Cite Resources
Document your research, and give credit where credit is due.
"Serendipity. Look for something, find something else, and realize that what you've found is more suited to your needs than what you thought you were looking for."
Lawrence Block
Your Librarian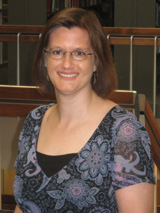 Darla Haines
dvhaines@manchester.edu
Phone: 982-5949
Office: 112 Funderburg Library

---
Featured Books
Publication Manual of the American Psychological Association
Reference 808.066 P96a6
The Craft of Research
001.42 B644c2