EVALUATION TOOLS
Take the CRAAP Test.
Evaluate web resources for:
Currency
Relevance
Authority
Accuracy
Purpose
(Thanks to Meriam Library University of California, Chico)
---
Is this journal scholarly?
Click here to find out.
Public Relations
Find Books
Try the following search in WorldCat, the world's largest library catalog. You can request items through interlibrary loan, but be sure to start your research early to allow time for delivery.
---
Find Articles
Experiment with key words such as alcohol use, binge drinking, college students, off-campus parties, college parties. Search all three databases at once by clicking on the "choose databases" link on the opening page.
---
Find Websites
Your Librarian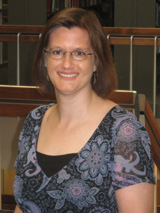 Darla Haines
dvhaines@manchester.edu
Phone: 982-5949
Office: 112 Funderburg Library

Featured Book
Dying to Drink: Confronting Binge Drinking on College Campuses
362.292 W41d
Featured E-Book
Reducing Underage Drinking: a Collective Responsibility