EVALUATION TOOLS
Take the CRAAP Test.
Evaluate web resources for:
Currency
Relevance
Authority
Accuracy
Purpose
(Thanks to Meriam Library University of California, Chico)
---
Is this journal scholarly?
Click here to find out.
PHYSICS
Physics resources compiled by the Special Libraries Association.
Digital library for Astronomy and Physics.
National Institute of Standards and Technology physical reference data.
A search engine for government science information and research results.
Your Librarian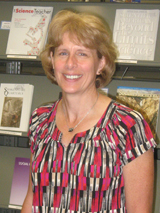 Jill Lichtsinn
jslichtsinn@manchester.edu
Phone: 982-5015
Office: 114 Funderburg Library

---
Citing Resources
Publication Manual of the American Psychological Association (APA)
Reference 808.066 P96a6
APA Style
(Purdue Online Writing Lab)
AIP Style Manual
(American Institute of Physics)
---