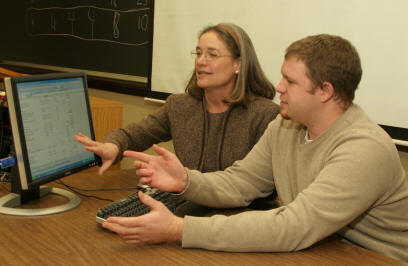 Jan Fahs and Nick Cripe
Perfect for the profession and for students: Manchester's new
150-hour accounting program
Manchester College's new 150-hour accounting program seems tailor-made for Nickolaus R. Cripe of Goshen, who began his new career with a nationwide CPA firm in January, primed to take the grueling exam to become a certified public accountant.
Cripe came to Manchester to pursue a master of accountancy but made a smooth transition to the much shorter 150-hour program when it was announced last spring while he was interning with the Fort Wayne firm of BKD, LLP. The accelerated program put him into his career (and earning a paycheck) nine months earlier. He's pleased, and so is BKD, which has a new employee in time for the busy audit and tax season.
For students, employers and Manchester, the 150-hour program makes sense, said Janis Fahs, CPA, coordinator of the 103-student accounting program. The new program ideally positions Manchester College students in the job market well-prepared for certification as public accountants, said Fahs.
The timing is perfect: "Firms are scooping up competent accountants right now. Firms don't want to wait for a master's degree; they want them now," she said, pointing to new accounting regulations and accountability pressures on businesses and organizations.
Those pressures likely will increase the demand for CPAs, said Gary M. Bolinger, CAE, president and CEO of the 7,500-member Indiana CPA Society. "The Manchester College 150-hour program for students pursuing the CPA designation is of great value in filling the need for future CPAs," he said.
Students need 150 credit hours and a bachelor's degree to qualify for the four-part CPA exam in Indiana. They typically would complete Manchester's new program in 4½ years – in December, ready for the busy season. Those who take summer and January session classes could finish in as quickly as four years. They could receive a bachelor's degree after successfully completing 128 credit hours; or wait until completing the additional 22 credit hours required to apply for the CPA exam.
Manchester's accounting program is recognized as one of the finest in the state and its graduates are heavily recruited. "We take great pride in graduating students who possess the work ethic, the maturity, and the educational foundation necessary to make immediate positive contributions to the accounting profession," Fahs said.
After surveying regional and national accounting firms, Manchester suspended its master of accountancy. Many firms do not pay higher starting salaries for a master's degree, nor do they consider it for promotions.
"Accounting is the department flagship, and we are committed to maintaining and building upon the standards of excellence that Art Gilbert established many years ago," said Fahs. Arthur L. Gilbert, professor emeritus, created the accounting and master of accountancy degrees at Manchester College, building a CPA-readiness program whose graduates populate accounting firms across Indiana.
The opportunities are vast for CPAs, who serve as trusted business advisors, strategic thinkers and problem solvers. For more about Manchester College's accounting programs, visit www.manchester.edu or contact Janis Fahs, CPA, at 260-982-5300 or jkfahs@manchester.edu.