7 p.m. May 13-14
3 p.m., May 15
Cordier Auditorium
It's time to make history:
College-community production
of 1776 is weekend of May 13-15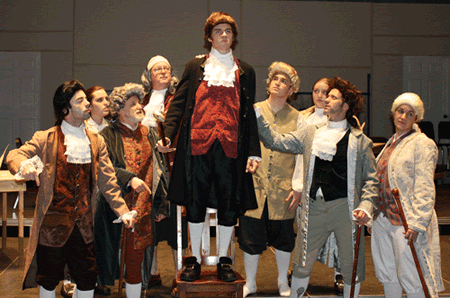 "I have come to the conclusion that one useless man is called a disgrace; that two are called a law firm, and that three or more become a Congress," proclaims John Adams in his opening monologue for the Tony Award-winning musical 1776.

"Sit down, John!" choruses an exasperated Congress, setting the sometimes irreverent tone and grandstanding pace for the May 13-15 performance by Manchester College and the Manchester Symphony Orchestra.

Unfolding in a huge recreation of Independence Hall, 1776 brings together students, faculty, staff and community members on the largest set in the history of Manchester College. The curtain rises in Cordier Auditorium at 7 p.m. on Friday, May 13, and Saturday, May 14, with a matinee at 3 p.m. on Sunday, May 15. Admission is free. Reservations are not necessary.

Expect extravagant costuming, a giant chandelier and 17 colonial-style tables to set the scene where Congress labored to craft the Declaration of Independence. The 25-member pit orchestra of the Manchester Symphony Orchestra is under the baton of Scott Humphries, assistant professor of music for the College. Stage and vocal direction is by Debra Lynn, chair of the Music Department.

Opening on Broadway in 1969, Sherman Edwards' music and lyrics are based on the book by Peter Stone. 1776 is historically charged, with cast of characters pulled straight from the history books – and the signatures at the bottom of the Declaration of Independence.

1776 demands utmost talent, and Director Lynn found plenty in the community and on campus. "I've always enjoyed mixing student and community talent for musical events," she says. "About half of the cast is made up of students and half are from the community, MC faculty and staff." The audience will find area teachers, parents and even the town president in period wigs and costuming.

"It's such a great learning experience, and it helps connect our students to the town and the surrounding area," says Lynn, who has directed other major community productions, including The Sound of Music, which filled the auditorium for all three performances. "By working together, each group (students and community members) gains appreciation for the other."

Clarinetist Mark Huntington, who usually is seated with the MSO for major performances, instead will take the stage as the quite outspoken delegate from Pennsylvania, Benjamin Franklin. In addition to finding his baritone voice for 1776, Huntington will acquire a limp.

"I'm really excited for opening night, after months of rehearsal and preparation," says Huntington, who is associate dean of academic affairs and professor of sport sciences at the College. (Auditions were in November.) "It's thrilling to see all the parts come together in this full-scale musical with costumes, props, scenery, and a full pit orchestra."
May 2011