Auditions Nov. 4-5
Strong community, College voices
make now the perfect time for 1776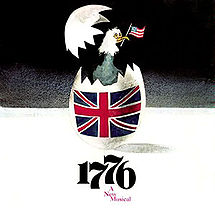 The community has an exciting opportunity to have a voice in the spring production of the Tony Award-winning musical 1776 at Manchester College.
Musical director Debra Lynn has issued the cast call for 25 male and two female voices to help tell the story of the "Piddle, Twiddle, and Resolve" behind the signing of the Declaration of Independence in Philadelphia. The production is scheduled for May 13-15, in collaboration with Manchester Symphony Orchestra.
Vocalists from neighboring communities as well as College students, faculty and staff are invited to audition at 7 p.m. on either Thursday, Nov. 4 or Friday, Nov. 5 in Wine Recital Hall.
"I'm thrilled about the opportunity to combine college and community talents for this show. I loved the town-gown collaborations for Pirates of Penzance and The Sound of Music a few years ago," said Debra Lynn, director of the Music Department and the choral program for Manchester College.
"There's no better recipe than mixing mature voices with student vigor. Throw in the MSO, and you can't help but end up with a musical masterpiece!" 1776, with music and lyrics by Sherman Edwards, opened on Broadway in 1969, winning Tony Awards for best musical, best direction and best featured actor. A film version, with most of the Broadway cast, was released in 1972.
"You don't embark on a mostly-male production like this if you don't have the talent pool," said Lynn. "This year we have really strong male voices among the College students and several gifted male singers among the faculty, staff and surrounding community who I hope will audition."
While 1776 has lead roles, such as John Adams and Ben Franklin, the success of the show depends more on the interaction of large groups of characters with one another than on the dramatic flair of one or two actors. The women are Abigail Adams and Martha Jefferson. "Much of the dialogue between Abigail and John Adams is taken from their actual letters to one another," said Lynn.
How to audition for 1776: Prepare music and script excerpts from 1776. Information packets are on reserve at the North Manchester Public Library and Funderburg Library at Manchester College. For more detail, contact Debra Lynn at 260-982-5296 or djlynn@manchester.edu.
October 2010