2011 Manchester College graduates step
swiftly into jobs, graduate study
"You're hired." It's a familiar refrain for 2011 Manchester College graduates. More than 96 percent of the 189 May bachelor's degree recipients landed jobs or were in graduate school or volunteer service by Christmas.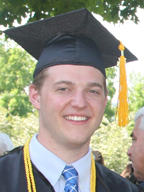 The Class of 2011 brings the College's five-year job success rate to 94 percent. Many accounting majors found career success even before they received their diplomas. Trent Gerbers had four offers seven months before graduating. Today, he's a staff accountant for Katz, Sapper & Miller CPA firm of Indianapolis.
He's also among 135 of his classmates (71 percent) remaining in Indiana to work and study.
"We are proud to see the level of talent Manchester College is producing, and the fact that the majority of students are staying in the state post-graduation is great news for the health of our economy," said John Sampson, president and CEO of the Northeast Indiana Regional Partnership. "The success of our region hinges on producing a talented workforce for our businesses, and this is a great step in that direction."
"The challenging coursework at Manchester forced me to establish effective time-management skills and a vigorous work ethic," said Gerbers, a Fort Wayne native who graduated magna cum laude. "Also, Manchester's strong reputation as a producer of highly qualified, intelligent and hard-working accounting students was invaluable during the recruiting process."

Many 2011 MC graduates found their place in graduate school. Political science major Jason Ray is enrolled in Claude W. Pettit College of Law at Ohio Northern University. "Manchester helped me prepare for the large amount of reading in law school," said Ray. "The relationships with people and professors I established at Manchester continue today and everyone is willing to offer advice and tips to help overcome the intense challenge of law school."

The job success rate spans majors. All but one of the 43 education majors, for example, have jobs or are in graduate school. Six graduates are in full-time volunteer work.

Manchester's high job success rate is no guestimate: The College connects with each spring graduate for its annual report. "I love to get that feedback, because we usually don't hear how referrals turn out until we work on the survey," said Betty Butterbaugh, assistant director of Career Services. "It helps make our efforts totally worthwhile."

Career Services helps students and MC alumni put their best foot forward in career applications and interviews, with coaching, tips and practice sessions. Career Services also provides connections between employers and students for internships and jobs, hosts on-campus interviews and posts job and graduate openings.
Manchester also offers an employment guarantee: a job or graduate school within six months of graduation or return for a full year, tuition-free. For more about Manchester College, its guarantees and graduates, visit www.manchester.edu.
January 2012