6 to 8 p.m. Tuesday, February 28
Flory Auditorium, Science Center, Manchester College
Annual meeting Feb. 28: Watershed
landowners share growing success
of Eel River Watershed Initiative
Landowner cost-sharing programs and their pollution-reduction results, pending dam removals and more grants are on the agenda of the 2012 annual meeting of the Middle Eel River Watershed Initiative.

The free, public meeting begins at 6 p.m. on Tuesday, Feb. 28, in Flory Auditorium on the second floor of the Science Center of Manchester College in North Manchester.

The Initiative is entering its fourth year of its mission of "protecting and enhancing the water resources of the Middle Eel River Watershed through education and implementation of soil and water conservation practices."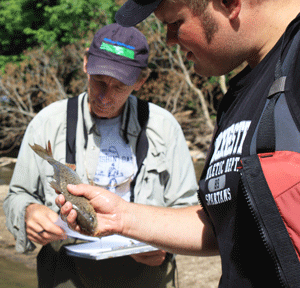 The annual meeting is of special interest to conservationists, farmers, landowners, birders, anglers and others who use the 30-mile stretch of the Eel River between North Manchester and Mexico, Ind., or care about its water quality.
"Area residents' questions, comments and concerns are very important to the Initiative, so we hope all concerned citizens will join us," said Terri Michaelis, watershed coordinator for the Initiative.
Success in obtaining grants totaling more than $212,000 from federal and state agencies has resulted in completion of 10 soil and water conversation projects with five more pending. The projects range from cover crops to fencing livestock from streams to no-till modifications, nutrient management and grassed waterways – impacting more than 2,350 acres.
"We are inviting our cost-share participants to the annual meeting so we can recognize their efforts in the watershed," she added.
Initiative agencies and scientists estimate the practices are annually reducing suspended solids in the watershed by more than 2,200 tons, nitrogen by more than 8,860 pounds and phosphorous by more than 3,000 pounds.
"We are very excited about the progress we have made this past year in the Middle Eel River Watershed and we look to more and greater opportunities in the near future," said Michaelis.

Manchester College leads the Middle Eel River Watershed Initiative, collaborating with Wabash, Kosciusko and Miami county agencies, organizations, landowners and others. For more information, contact the watershed coordinator, Terri Michaelis at 260-982-5101 or tmmichaelis@manchester.edu. Or, visit the Initiative website at www.manchester.edu/eelriverinitiative/index.htm.
February 2012
Visit the website
Dr. Jerry Sweeten, lead grantwriter
for the Middle Eel River Watershed
Initiative, and Manchester senior
environmental studies major
Ben Long measure fish.