7 p.m., Thursday, Nov. 8
Continents drift together as one at MU
for Nov. 8 International Fashion Show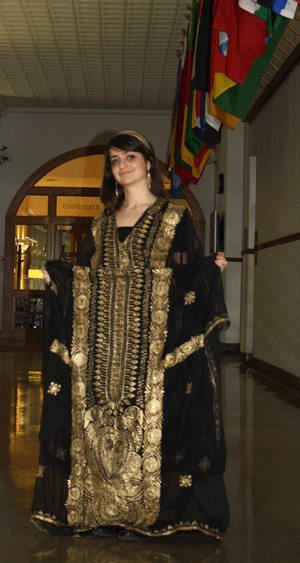 Five continents reunite on the Manchester University runway with the 2012 "Continental Drift" international fashion show at 7 p.m. on Thursday, Nov. 8. Students and others in the MU community will model fashion of the continents of Africa, Asia, Europe and the Americas in the upper Union of the North Manchester campus. The public is welcome to join in this free celebration of the diversity that unites Manchester University.

The fashion show takes its theme from the "continental drift" theory that Earth began as a single landmass, breaking apart during earthquakes and flooding. "We began as one people," said Michael Dixon, director of intercultural services for the University. "We are all still one people, but we have distinct cultures that we want to represent in the show."

Senior computer science major Yousra Kamoona of Baghdad will model an hashami (هاشمي), an Iraqi traditional dress usually worn for celebrations. It is worn with gold jewelry. Yousra, like most of the 26 international students enrolled in the undergraduate program on the North Manchester campus, brought her outfit to the States especially for MU's international events like this biennial fashion show.

Expect to see 18 countries on the runway: African countries of Cameroon, Ethiopia, Rwanda and Ghana; Asian countries of Cambodia, India, Japan, the Philippines, Thailand, Vietnam, Iraq and Palestine; European countries of France and Germany; and from the Americas: Mexico, Ecuador, the United States and Canada.

Manchester has a culture of international awareness, with students and faculty traveling abroad not only for semesters or the entire school year, but also for January session and spring break with MU faculty-led coursework abroad.

The fashion show is sponsored by the MU Office of Multicultural Affairs. For more about Manchester's ethnic diversity, visit www.manchester.edu/osd/oma.
November 2012