8:30 a.m. Thursday, January 31
MU Union, Manchester University
Dam removal leads Jan. 31 annual
meeting for Middle Eel River
Watershed Initiative
One of the great success stories for area Soil & Water Conservation Districts is the strong, diverse partnering of more than 24 agencies and organizations to improve the middle Eel River watershed.
"It might be a misnomer to call it an initiative anymore," says Terri Michaelis, coordinator of the Middle Eel River Watershed Initiative headquartered at Manchester University. "It seems the Middle Eel is many initiatives in one and after four years of its existence, it is up and coming as a mainstay to organizations of its kind in north central Indiana."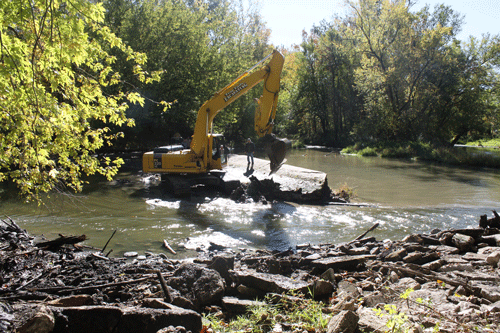 The Initiative will celebrate its collaborations and achievements at an annual meeting at 8:30 a.m. on Thursday, Jan. 31. The public is invited. The meeting will precede certification training for Category 14 fertilizer applicators. All sessions are in the MU Union, on East Street on the east edge of the North Manchester campus. Registration begins at 8 a.m.
A highlight of the annual meeting will be discussion of removal of two low dams along the Eel River, in a partnership with faculty and students in the Environmental Studies program at Manchester University, as well as state and federal agencies.
The Initiative used a $120,000 grant to remove the mid-19th century dams at North Manchester and Liberty Mills on Oct. 11-12. Funding was primarily through the U.S. Fish and Wildlife Service and the Ohio River Basin Fish Habitat Partnership.

"After both dams were removed, it didn't take long for the stream to stabilize and reestablish, says Michaelis. "Within the first couple of hours, the difference in stream height was strikingly evident at different points upstream of the dams removed." Over the next couple of years, MU students will continue to monitor ecological changes as a result of the dam removals.
Manchester University leads the Middle Eel River Watershed Initiative, collaborating with Wabash, Kosciusko and Miami county agencies, organizations, landowners and others. For more information, contact the watershed coordinator, Terri Michaelis at 260-982-5101 or tmmichaelis@manchester.edu. Or, visit the Initiative website at www.manchester.edu/eelriverinitiative/index.htm.
January 2013