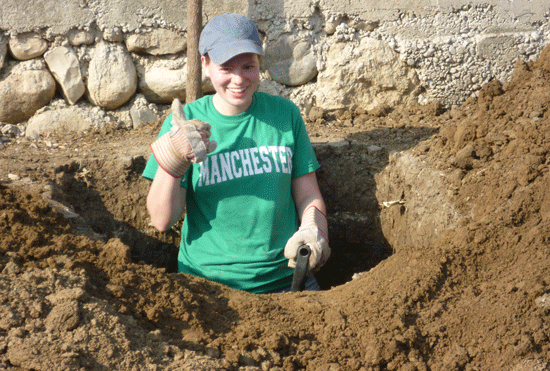 Becca Creath, peace studies intern, digs into a 5-foot-deep foundation hole for a new building
during a Peace Studies Practicum in Haiti in January 2013.
"Community spirit" earns MU a berth
again on President's Service Honor Roll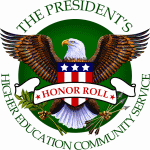 "In a gentle way, you can shake the world," said Gandhi.

Each week – even on their spring breaks, summers and vacations – Manchester University students take that advice very, very seriously. That dedication to "gentle" service puts them in the national spotlight once again: For the seventh year in a row, Manchester University is on the President's Higher Education Community Service Honor Roll.

Honorees are selected for the scope and innovation of service projects, curriculum-based service-learning, long-term campus-community partnerships and measurable community outcomes of the service.

This week, for example, MU students are serving meals and conversations at a community dinner for those less fortunate. They are raising spirits at a local retirement center and Friday they are filling backpacks with snacks at Manchester Elementary School to ensure all the children will continue to get nourishing food over the weekend.

Also on their to-do list: rehabilitating houses into homes with Habitat for Humanity, and helping out at centers for abused women and children, for the disabled and for emotionally troubled youth. They are training in Red Cross disaster relief and giving blood. They are testing members of Fort Wayne's underserved multicultural communities for diabetes and other health risks. They are rolling up their sleeves to lug groceries at food pantries, to pull trash from the Eel River and to give blood.

And, year after year after year, they tutor hundreds of youngsters in reading. It's a tradition, the Indiana Reading Corps, which annually accounts for more than 3,000 hours of MU students' volunteerism in area schools.

Manchester is among 690 higher education institutions on the 2013 President's Higher Education Community Service Honor Roll that recognizes 3.1 million students engaged in 118 million service hours. That's $2.5 billion in value to communities across the nation, says the Corporation for National and Community Service, which tallies the volunteerism.

Commitment to making the world a better place is part of the Manchester Mission. Annually, its students, faculty and staff contribute more than 35,000 hours to their communities, their churches, their country and abroad.

The MU Center for Service Opportunities, which also coordinates Manchester's engagement in Pathways summer service programs and the Indiana Reading Corps, provides a network for students, faculty and employees. Coordinator of the Center is Carole Miller-Patrick, a Hoosier honoree for her contagious enthusiasm for service.
March 2013