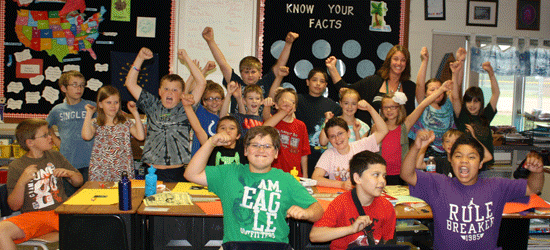 "My teacher is great!" We think so, too

Everyone has a favorite elementary school teacher – the one whose personalized attention challenged them and made learning exciting.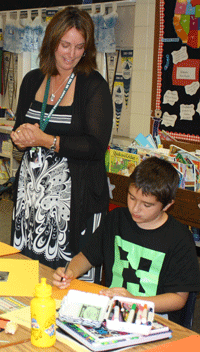 One like Paige Keim' 95, a fourth-grade teacher at Milford Elementary School in northern Indiana. She's also Manchester University's 2013 Warren K. and Helen J. Garner Alumni Teacher of the Year.

"This selfless individual is one of the most loving and engaged educators I have ever had the honor to teach with," says MU education major Drew Graber '13 of Goshen, Ind. He did his student teaching with Keim and nominated her for the award. "Her actions and reflections in the classroom modeled to me what a successful and responsible teacher looks like, and her direct experience and impact on me forever changed my ideology on elementary education."

Keim is Manchester proud of Graber, who graduated magna cum laude. "He was only the second student teacher I had," she said, noting she had been reluctant to participate in the student teaching program. That Graber was a Manchester student made her decision easier, she said. "He was so prepared. It was a very good decision."

Fourth-grader Gavin Wilson, 10, says Manchester chose wisely in honoring his teacher. "She's really nice and she finds a way to make school fun." Classmate Kiaundra Olson agrees: "She's a really great math teacher." Even though the school year was winding down, Keim's students were fully engaged in telling their family stories using math pictures.

Keim joined the faculty of Wawasee Community School Corp. about 16 years ago and is fully engaged in her community, too, where she is a member of the board of the Lakeland Youth Center. She and her husband Tim have two sons, Zeke and Luke.

She credits her alma mater, and especially the personal interest faculty and staff took in her Manchester experience, for her success today in the classroom. "I felt very well-prepared for teaching and life," she said. I learned to buckle down and do the right thing – all those life skills that Manchester teaches you." Faculty attention to her success impresses her still. "They would call you if you missed class," she said recalling Ralph McBride, professor of mathematical sciences, and dinners with the late Karen Doudt '66, associate professor of education.

Keim, who struggled financially during her college days, received support when former alumni director Gary Montel '65 and his wife Dee Montel '95, also an education major, shared their home. "I was like one of the family," she recalls. The Montels felt that way, too.

A fund created by Warren '50 and Helen Yeager '50 Garner, both long-time educators, enables the Education Department annually to recognize an Alumni Teacher of the Year.

More than 4,000 Manchester alumni across the nation graduated with a teaching degree. This spring, 32 future teachers received their diplomas. For more about education degrees at Manchester, visit www.manchester.edu.
June 2013