4 trustees hope their $5.5 million
will inspire more Manchester bequests
Four very active Manchester College trustees are donating a combined $5.5 million in hopes of inspiring others to remember future students in their giving plans.
From diverse backgrounds and professions, all have used their Manchester College education as a springboard to great ability and conviction. They majored in chemistry, history, music and accounting. They live in Ohio, Indiana and California.
And all have designated at least $1 million for Manchester College, said President Jo Young Switzer.
Two thirds of the gifts are estate designations, she said, adding, "Including a gift to Manchester in their wills is a wonderful expression of confidence in the future of the College." The four members of the current Board of Trustees who have made million-dollar commitments:
Sara Edgerton '70

, co-founder and chief executive officer for Community Cancer Care in Indianapolis

Dave Haist '73

, executive vice president and chief operating officer for Do it Best Corp.

Marsha Link '68

, founder and principal of Link Consulting Group for management and organizational development

Richard Robins '64

, retired vice president/performance systems for The Lubrizol Corp., a global specialty chemical company
"My wife Sandy and I met at Manchester and found our commitment for service and for giving from our Manchester experiences," says Haist, a Manchester accounting graduate who became a CPA and earned a law degree. The couple shares in the gifts to the College. Haist Commons dining hall on campus also honors their family.
"There is, simply, no other place that can, with relatively modest amounts of resource, touch student lives in ways that will truly change how they view the world," says Haist, whose company supports hardware and lumber operations in all 50 states and 46 other countries. "The sense of accomplishment we feel from helping to make that happen is better than anything else we can imagine."
Rich Robins' connection with the College began in high school and the Manchester Church of the Brethren down the street, where MC faculty, student teachers and faculty children were strong influences in his character and outlook. "As a local kid whose parents did not graduate from high school, Manchester was transformational for me," says Robins, who used his MC chemistry degree as a springboard to a Ph.D. in chemistry at The Ohio State University. He and his wife Kate, who shares in the bequest to the College, live in suburban Cleveland.
Sara Edgerton is a co-owner of Community Cancer Care (CCC), which partners with rural and underserved hospitals to provide cancer care and programming. "It seems the older I get, the more I have come to appreciate Manchester College and the important roles its graduates play in a variety of vocations and avocations," says Edgerton, who majored in history at Manchester. "Our world needs people who can think critically while not losing sight of our need to be broad-minded."
"The world is a better place because there is a Manchester College," says Marsha Link, next chair of the Board of Trustees. The MC music graduate, who also has a doctorate in clinical psychology, leads her very successful consulting firm in Irving, Calif. Her husband Bill shares in the MC giving plan. "Our hope is that Manchester will continue to thrive for years to come and that our gift will help."
Learn more about bequests and other planned giving to Manchester College at www.manchester.edu, or connect at giving@manchester.edu or 888-257-2586.
December 2010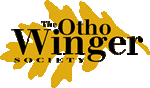 Members include Manchester
College in their estate plan
or deferred gift.