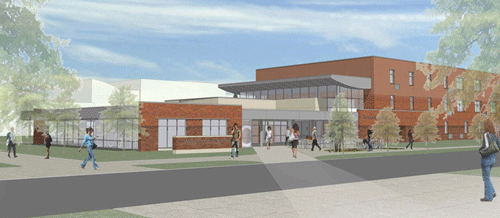 Manchester College continues campus
transformation with new Academic Center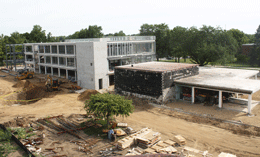 Manchester College is transforming the learning environment for its business, education and liberal arts students with construction of a $9.1 million Academic Center on its North Manchester campus.

In just 14 months, the 52-year-old Holl-Kintner Hall will open as an Academic Center fine-tuned to 21st century challenges and opportunities – merging contemporary learning with timeless liberal arts study. The renovation represents several important Manchester College values, said President Jo Young Switzer. "We want to use our resources responsibly, we are careful stewards and strategic planners and we are putting students first."

Just as the College's 6-year-old Science Center directly across the mall enhances learning and enrollment in biology, chemistry, mathematics, computer science, physics, environmental studies, pre-med and pre-pharmacy, the Academic Center poses a perfect opportunity for similar growth in the liberal arts.
State-of-the-art pedagogical technology and interactive, collaborative, engaging spaces fill the designs by architect MSKTD & Associates Inc. of Fort Wayne. General contractor for the 52,000-square-foot structure is Michael Kinder & Sons Inc. of Fort Wayne.

In addition to 16 classrooms, the Academic Center will house faculty offices, study lounges, conference rooms, a small lecture auditorium, a peace studies library, and areas for language study, psychology research, video editing and accounting multi-media.

Departments that will find permanent homes in the Academic Center: accounting and business, communication studies, economics, education, English, finance, history and political science, management, marketing, modern languages, peace studies, psychology, religion and philosophy, sociology and social work.
Marcie Coulter-Kern, associate professor of psychology, is excited about the research space that will come with the Academic Center. Psychology is a popular major at Manchester, engaging more than 90 students. Many present graduate-level research at professional conferences. The Academic Center "will facilitate new and innovative ways to teach and to research," Coulter-Kern said. "We will have computer labs and research labs, places to display our research and more-efficient (and climate-controlled) places to work with students."

The three-story building, when it opens for classes in fall 2012, also will feature a first-floor Welcome Center for admissions, an atrium and café.

Fundraising continues for the Academic Center, including naming opportunities for classrooms, offices, departments and other areas. For more about Manchester College, and gifts to the Academic Center, connect at www.manchester.edu or 260-982-5218.
June 2011


Watch construction on
Spartan Cam 3