Manchester College looks to alumnus
Adam Hohman for its admissions director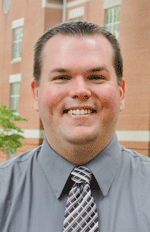 Adam Hohman, whose admissions savvy and leadership support has played a key role in a four-year, 27 percent enrollment increase at Manchester College, is the new director of admissions. He leads a 14-member staff and a College-wide ethos of "Everybody's a Recruiter" that engages students, faculty and staff, alumni and friends.
Hohman was associate director of admissions, with acumen in data management and admissions communications. He earned his bachelor's degree in biology-chemistry, with a minor in environmental studies from Manchester in 2001 and served three years as a residential hall director for the College.
With more than 1,300 students, the College offers more than 55 areas of study, two master's degrees and preparation for a range of graduate programs, including the Manchester College School of Pharmacy, which plans to enroll its first students in fall 2012.
September 2011