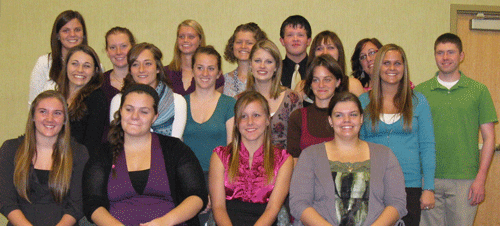 14 Manchester students enter
national language honor society
Fourteen Manchester College students are new members of Alpha Mu Gamma, a national foreign language honor society for college students. The students are majoring in a variety of fields, including psychology, management, accounting, exercise science, religion, education and political science. Of course, Spanish, French and English majors also are among the inductees.

Also, James Brugh, a 1972 German major of Manchester College, was honored for his contribution as an adjunct professor of German to the MC faculty. At the induction ceremony, senior Eddie Shei and sophomore Betsey Varner received the Dillon Roush and Macon Dale Traxler Endowed Scholarship to assist with their January session class to Spain.

Alpha Mu Gamma recognizes exemplary performance in language and overall academic achievement, encouraging interest in foreign languages, literatures, cultures and civilizations.

The 2011 inductees are: ShaNell M. Brazo, sophomore history major from Claypool, Ind.; Shelby D. Covington, junior English and French major from Indianapolis; Taylor D. Daggett, junior exercise science major (Spanish minor) from Cincinnati; Katy M. Dunlap, senior psychology major (Spanish minor) from Saint John, Ind.; Tyler J. Evans, sophomore English major from Anderson, Ind.; Eloise Fulmer, junior psychology major from Buford, Ga.; and Kyle L. Grubbs, senior Spanish major from Muncie, Ind.
Also: Megan N. May, sophomore accounting major from Michigan City, Ind.; Whitney S. Ohmer, psychology and Spanish major from Noblesville, Ind.; Eddie Shei, senior political science major (Spanish minor) from Hanna, Ind.; Rebecca Tepes, senior management major (Spanish minor) from Knox, Ind.; Betsy R. Varner, sophomore religion and Spanish major from Yorktown, Ind.; Haley A. Weagant, junior exercise science and fitness major (Spanish minor) from Chico, Calif.; Kayla E. Wiseman, junior elementary education major from Morocco, Ind.

Faculty advisor for the Manchester College chapter is Lynne Margolies, associate professor of Spanish. Club officers are ShaNell Brazo, president; Hayley Weagant, vice president; Betsey Varner, secretary; and Megan May, treasurer.

To learn more about modern language at Manchester College click here.

December 2011