Join Manchester College alumni
on fall 2010 Alpine Europe tour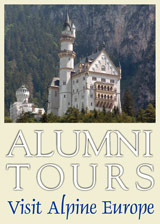 The public is invited to join the Manchester College Alumni Association on a fall 2010 tour of Alpine Europe. The 10-day trip embarks from Chicago en route to some of the most storied sites of Europe, from the Rhine valley of Germany through the Alps of Switzerland and Austria. The tour schedule is Sept. 25 to Oct. 5, 2010.
Travelers will attend the 377-year-old Passion Play of Oberammergau, performed only once every 10 years on an open-air stage against a breathtaking background of towering Alpine mountains. The $3,899 cost includes airfare, accommodations, tour guide, most meals and sightseeing, arranged by Nawas International Travel.
For more information and to make reservations, contact the Manchester College Alumni Office at 888-257-2586 or alumnioffice@manchester.edu. Details about the trip also are on the Manchester College website at www.manchester.edu; click on the Alumni tab or click here.
September 2009