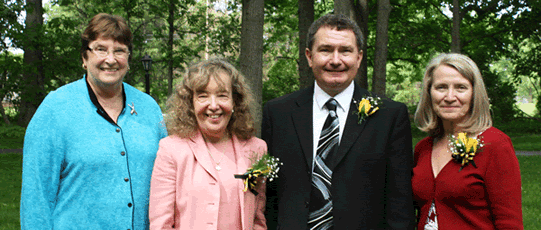 From left: President Jo Young Switzer, Marcia Sowles, Rick Mishler and Sandy Haist
Manchester College honors six alumni
for dedication and service
Gandhi said, "The best way to find yourself is to lose yourself in the service of others." Six Manchester College alumni who have lost themselves in service are recipients of the 2011 Alumni Honor Awards:

Dave

and Sandy Haist of Spencerville, Ind. Dave Haist is executive vice president and chief operating officer of Do It Best Corp. Sandy Haist, former MC adjunct professor in computer science, is generous in community service.
Rick Mishler

of Phoenix, Ariz., a pioneer and world leader in interventional nephrology, increasing life and lowering health care costs for kidney patients
Marcia Sowles

of Arlington, Va., senior counsel for the U.S. Department of Justice, defending agencies against constitutional and statutory challenges

Dave Haist '73 oversees all operational functions of Do it Best Corp., which has 4,000 stores in the United States and 50 countries. Together, the Haists practice a deep commitment to Manchester College while serving on the boards of several civic organizations. Dave Haist's 20 years on the Manchester College Board of Trustees included service as chair. Sandy Cleveland '74 Haist serves on the President's Leadership Council of the College and the Haists continue fund-raising leadership for their alma mater.

Dr. Rick Mishler '74 has devoted his career to improving the lives of kidney patients. At the Arizona Kidney Disease and Hypertension Centers in Phoenix, he helped develop a groundbreaking outpatient procedure that is more convenient, less traumatic and less expensive, resulting in better quality of life for kidney patients. For more than 15 years, he flew his own plane to remote areas of Arizona to treat Native American kidney patients.

Her sharp legal mind and passion for fairness earns Marcia Sowles '72 high respect at U.S. Department of Justice, where she has served 13 years as senior counsel. A graduate of Yale University's prestigious master of law program, Sowles also was lead attorney for the U.S. Department of Energy on complex cases against major oil companies. She's a former member of the Manchester Board of Trustees and Alumni Board.

Phil West '60 has spent nearly a half-century searching for common ground between the people of America and East Asia. His first book, on Yenching University and Chinese-Western relations, was nominated for a Pulitzer Prize in history. He is former director of the Maureen and Mike Mansfield Center to promote a better understanding of Asia at the University of Montana. The son of Manchester alumnus Dan West, founder of Heifer International, Phil West served as a "Seagoing Cowboy," tending to heifers shipped overseas to help Japanese farmers recover from World War II.

President Jo Young '69 Switzer has raised the bar in higher education, creating an environment in which every member of the Manchester College community realizes he or she makes a difference. Her encouragement to "think boldly" is resulting in exciting innovations, including a new School of Pharmacy doctoral program that has attracted almost $36 million in grants, highly successful enrollment initiatives and new master's degrees. Switzer is the first female president of Manchester College, taking office in December 2004.
June 2011