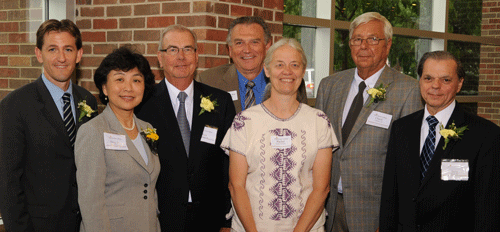 From left: Dustin Brown, Ding-Jo Currie, Ken Metzger, Gary Montel,
Rachel Kurtz '74 Gross accepting for Sarah Kurtz, Charles Chaffee and Jerry Brand
Manchester honors alumni leaders
in science, industry, education
Molecular biologist, rubber and plastics industry executive, national education leader, internationally lauded solar energy scientist, and two whose enthusiastic service to their alma mater spans decades. All are the Manchester College's latest Alumni Honor Award recipients:
Jerry Brand of Austin, Texas, a groundbreaking molecular biologist and professor whose research in algae may lead to new biofuel discoveries
Charles Chaffee of Churubusco, Ind., co-founder and CEO of a 500-employee automotive parts manufacturer and 2010 Rubber Industry Executive of the Year
Ding-Jo Currie of Huntington Beach, Calif., one of the first Asian-American women to lead a U.S. institution of higher education
Sarah Kurtz of Golden, Colo., internationally honored for her research to reduce the cost of solar energy
Ken Metzger of Auburn, Ind., who used his management skills to co-lead an annual Manchester golf outing that has raised more than $1 million for Spartan athletics
Gary Montel of North Manchester, Ind., whose leadership of alumni and church relations and events for the College spans 24 years
This spring, Manchester also presented its 2012 Young Alumni Outstanding Achievement Award to 35-year-old Dustin Brown '99, one of the youngest senior executives in the U.S. Office of Management and Budget. As deputy assistant director for management, he works in the Executive Office of the President complex to improve conditions in low-income urban areas, lower the violent crime rate in Native American communities and increase renewable energy use in U.S. homes.
Here's more about the Alumni Honor Award recipients:
Jerry Brand '63 is a professor of molecular cell and developmental biology for the University of Texas, where he has established the world's largest and most-diverse culture collection of algae. His research centers on finding algae that produce oil for processing into biofuel that, in turn, might someday run engines for automobiles and other vehicles.

Charles Chaffee '64 heads BRC Rubber & Plastics Inc., which designs, tests and manufactures rubber and plastic parts, mostly for the automobile industry, including General Motors, Ford and Chrysler. BRC has Indiana plants in Churubusco, Bluffton, Ligonier, Montpelier and Hartford City and a sales and engineering office near Detroit.

Ding-Jo Hsia '75 Currie retired last year as chancellor of the Coast Community College District in California, the nation's seventh-largest community college. She is a nationally and internationally recognized leader of education and an advocate of global workforce, technology and leadership development, as well as women's issues and international education.

Sarah Kurtz '79 received the international 2007 Dan David Prize for her work with another researcher to help alleviate "the world's impending energy crisis." As a principal scientist for the U.S. Department of Energy's National Renewable Energy Laboratory, Kurtz is working on a solar cell that has high solar energy conversion efficiency and greatly reduces the area needed for sunlight collection.

Ken Metzger '67 is retired president and co-owner of Herbert E. Orr Co., Inc., an automotive industry supplier in Paulding, Ohio. For more than 20 years, the four-term member of the Manchester Board of Trustees has co-organized the annual Friends of Manchester Golf Outing that has raised more than $1 million for Spartan athletics.

Gary Montel '65 retires in mid-July as director of alumni and church relations, leading more than two decades of intergenerational connections for the College that is rooted in the Church of the Brethren. Montel's team used campus reunions, gatherings, tours, e-newsletters, golf outings, social media and mailings to connect with 12,300 graduates.
June 2012