Link Gallery: 8 a.m. to 5 p.m. Monday-Friday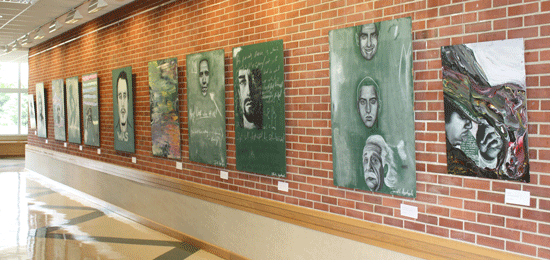 Jared Applegate connects time in blackboard
exhibit in Manchester's Link Gallery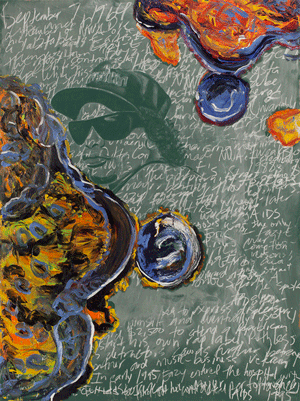 Manchester University features the chalkboard art of Jared L. Applegate in its Link Gallery. The free exhibit that surrounds Wine Recital Hall on East Street in North Manchester continues through Sept. 5, from 8 a.m. to 5 p.m. weekdays and by appointment.
huMANization brings an aura of mystery in portraying the legacies of fallen historical heroes and musical phenomenon through colorful mixed media, graphite and charcoal. Applegate, of Fort Wayne, explores the transition of the chalkboard outside of the classroom and into "other life."
"This is art not a tribute art work" is chalked across the bottom of one of his works. His subjects in the Chalkboard Series range from Al Capone and Bob Marley to Marilyn Monroe, Jimmy Hendricks and even Batman.
Applegate's portrayals range from monumental historical figures to popular celebrities. Most have reached a tragic ending, a self- destruction Applegate uses to create a stage for contemplating education and morality. His work debuts faces and text from different moments in time, merging the generations in a single piece.
"I begin with the question: From whom, where, and what have we learned that is most beneficial to our lives? I contemplate the temporal interchangeability of the chalkboard and educational environments," says the artist. For more about Jared Applegate, visit his website at jaredapplegate.com
Applegate earned a bachelor's degree in drawing from Ball State University and master's in fine arts from Texas Tech University.
Link Gallery is open to the public except holidays and weekends through the summer and by appointment. For gallery information, contact galleries coordinator Ejenobo Oke, 260-982-5334.
June 2013