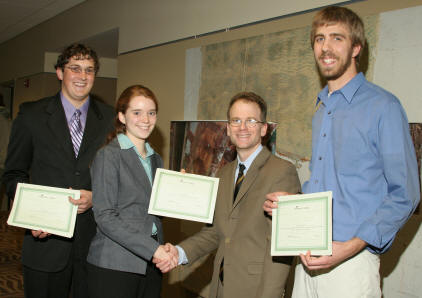 From left: Blake Hike, Colleen Hamilton, Dean Glenn
Sharfman and Jonathan Dutrow.
Molière, an Indiana lake,
eminent domain take the prize
at 8th Annual Dean's Student
Scholarship Symposium
With presentations about the plagiarism of Molière, the ecosystems of one of Indiana's deepest natural lakes and a land-taking case that perpetuates a trend in economic development – the Manchester College Dean's Student Scholarship Symposium showcased phenomenal students on March 10.
The 8th annual symposium featured 21 presentations by 28 students, from senior to first-year student, from scientist to musician. Three students emerged from the faculty-judged competition with The Jo Young Switzer Award for Excellence in Writing and $100 each. Twenty-three were honored for participating in the highly selective symposium and received gift certificates to the Campus Store.
The top presenters:
Colleen Hamilton of Rockford, Mich., "The Plagiarism and Consequent Brilliant Success of Molière"
Jonathan Dutrow of McPherson, Kan., "A Descriptive Limnological Analysis of Phosphorus Loading and Thermal Stratification in a Temperate Dimictic Northern Indiana Natural Lake"
Blake Hike of Syracuse, Ind., "Kelo v City of New London: Radical Break or Reaffirmation?"
"The symposium is a wonderful venue to showcase the many academic talents of our students," said Glenn R. Sharfman, vice president and dean for academic affairs. "We have some phenomenal students who were stretched by the event and the pride that the students, their faculty mentors and their families took from the experience is priceless,"
Presentation topics also included an anabaptist poet, capitalism in Togo, the Cuban Missile Crisis, baseball, an original Elizabethan farce, Kodaly music education method, and the Christianity of Isaac Newton. Bonefish, human rights protection, The Count of Monte Cristo, the religious right, conflict resolution skills, salamander reproduction, stream water quality, Josef Stalin and oppression also were discussed.
"Many of the papers presented were at a graduate level and I cannot say enough about the poise and sophistication of the students," said Sharfman. "It is a real treat to watch students display such great academic depth and have so much fun doing it."
First-year education major Colleen Hamilton, mentored by Professor Janina P. Traxler, learned that "Molière caricatured the French nobility, and they loved him for it." Hamilton explored Molière's foundation in classical and popular theatre as well as his resulting balance of humor and intelligence, comedy and satire, classical and popular.
Senior environmental studies major Jonathan Dutrow, mentored by Assistant Professor Jerry E. Sweeten, collected data in five monitoring locations in Crooked Lake, on the border of Noble and Whitley counties. Biologists and lake residents are concerned about the long-term trophic status of the lake, highlighting a need to constantly monitor changes of the ecosystems, said Dutrow, adding "Such descriptive models provide standards for effective sustainability and management programs."
Senior political science major Blake Hike, mentored by Professor Leonard Williams, researched a U.S. Supreme Court land taking for economic development. Hike studied eminent domain cases and related his research to the intentions of the framers of the Constitution. He determined that the case reaffirmed past legislation favoring private and public interests, analyzed the consequences of the legislation, and offered solutions.
Other presenters in the symposium: junior Aimee Gerdes of Mishawaka, Ind.; senior Cameron Hollenberg of Elkhart, Ind.; junior Kelly Picard of North Muskegon, Mich.; senior Rebecca Miller of Arbela, Mo.; senior Benjamin Leiter of New Windsor, Md.; sophomore Jared Mobley of North Manchester; junior Levi Haupert of Peru, Ind.; senior Travis Poling of North Manchester; sophomore Megan Leese of Kokomo; sophomore Fiona Mills-Groninger of Whiting, Ind.; sophomore Amanda Patch of Otterbein, Ind.; senior Sarah Reed of Mishawaka; senior Rachel Long of North Liberty, Ind.; senior Logan Condon of Naperville, Ill.; senior Zachary Burton of Franklin, Ind.; senior Judith Nicci Small of Algonquin, Ill.; senior Joe Lamplot of Newport, Ky.; first-year student Laranda Collins of Atlanta, Ind.; first-year student Anna Grady of Anderson, Ind.; first-year student Jahan Monirian of Fort Wayne; first-year student Tyler Yeager of Fort Wayne; junior Kyle Coffman of Heath, Ohio and senior Steve Boyer of Bourbon, Ind.