Nationwide search for athletic director
brings Spartans to their home field
for coaching standout Rick Espeset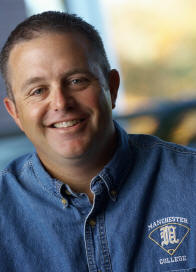 A nationwide search for a new athletic director has brought Manchester College to its own baseball diamond. Rick Espeset, who led the Spartans to the 2004 NCAA Division III World Series, will step into the position immediately, announced President Jo Young Switzer.
Espeset will continue as head coach of the baseball team as he assumes leadership of the 17-sport Athletics Department. He succeeds Athletic Director Tom Jarman, who retired this summer after 18 years in the post.
"Rick Espeset has been a highly successful baseball coach for over a decade at Manchester. His leadership skills and deep knowledge of athletics make him the perfect fit for our program," said Glenn R. Sharfman, vice president and dean for academic affairs. "He is committed to excellence both on and off the field."
Espeset is an acknowledged leader in his profession, in line to serve as national chair of the NCAA Division III baseball committee in 2009. He is in the middle of a four-year appointment as chair of the NCAA Mideast Region.
"Rick is committed to an athletic program with integrity, competitiveness, and high expectations for students," said Switzer, noting Espeset was selected from a national field of strong candidates.
Espeset joined the Manchester College coaching team 13 years ago as a baseball coach intern. All of his experience is in Division III athletics, which Espeset calls "the perfect level to coach. We encourage – and there is – a true balance between being a student and being an athlete.
Espeset said he hopes to follow Tom Jarman's footsteps with a diverse team of coaches, "every year gaining a little ground and continuing to give our coaches and student-athletes opportunity to compete for conference and national championships."
At Manchester, he has been a Heartland Collegiate Athletic Conference Coach of the Year three times and has led the Spartans to 10 of the highest win totals in the 84-year history of the baseball team. His coaching record at MC is 298-168.
The Minnesota native is a 1992 psychology graduate of Gustavus Adolphus College, where he played baseball all four years. He holds a master's in sport management from Western Illinois University and began his coaching career at Nebraska Wesleyan University.
He is the College's student-athlete recruiting coordinator, conducts baseball clinics for youngsters, and is on the MC faculty. Espeset and his wife Andrea live in North Manchester with their son Ethan and daughter McKelvey.
For more about Manchester College athletics, visit www.manchester.edu