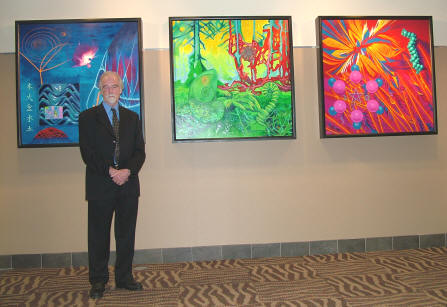 Triptych Magnific!
Professor Jim Adams to unveil
paintings for Science Center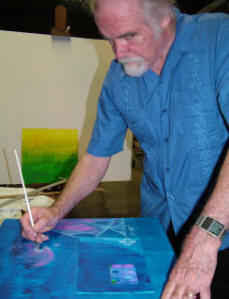 What do art and science have in common? Let Manchester College Professor James R.C. Adams show you … in three different ways! With an unveiling at 4:30 p.m. on Thursday, Oct. 26 in the Physicians Atrium of the Science Center comes highly-anticipated artwork of the College's acclaimed art teacher.
For the past 18 months, Adams has been busy concocting the perfect formula for the paintings to celebrate the $17 million Science Center, dedicated Sept. 16, 2005. The public is invited to the unveiling.
Adams calls his artwork "semi-abstract" and "colorful in a dramatic form." It actually is three interrelated paintings, each on a 4-foot Masonite square, each depicting a natural science, each underlined in bold, symbolic colors. Mathematics is an underlying feature of them all.
Adams' paintings are perfect for the Science Center, says James T. Streator, professor emeritus of chemistry.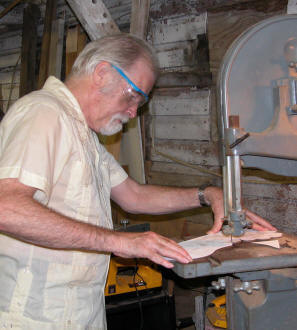 "His understanding of essentials of mathematics and science, his sense of humor and his love of color show through wonderfully in these paintings. They serve well to welcome you to the Science Center, where mathematics and science are both taught and practiced but also where art is appreciated."
The project challenged the artist. "While some passages resemble Jim's landscape style, this triptych represents a significant stylistic departure," said music Professor John H. Planer, who teaches a humanities course in the arts.
Adams changed his mind several times to find the right formula for the Science Center. "I normally paint a clear-cut object, such as a landscape," said Adams. "This project was different because it was a composite with lots of characters. Initially, I decided I wanted to paint one big mural, and then I decided to do something with a few smaller pieces and link them to each other visually." He began by designing small drafts to test his ideas. When he began working on the actual project, he hit road-blocks and decided to start all over again.
The painting was agonizing, he said. "Amateur painters do it for relaxation. I don't. I can't relax when I'm painting. On the other hand, when I complete a painting that I like, then the struggle seems worth it, but during the procedure, I am not relaxing; I am agonizing. Painting is like an adventure I had once in Bolivia, if you get through it, it's a great experience."
Artist Adams, recognized by Congress as the 2002 U.S. Professor of the Year, knows the natural sciences and admits he likes reading Scientific American more than Art News. "I've always been interested in how things work," he explained. "My favorite classes in school were chemistry and physics. I liked them because they were not vague; things could be proved or disproved and I like the way scientists write."
Adams, fluent in several languages, currently teaches figure drawing, art and life, camera techniques, artistic restoration and conservation, and experiencing the arts. This January Session, he will take his classroom to Italy. Several other Adams' paintings hang in the Science Center, as well as in private collections in England, Spain, Mexico, Germany and throughout the United States.
Unveiling of Adams' science tyiptych:
4:30 p.m.
Thursday, Oct. 26
Physicians Atrium
Science Center