Advising and Registration Days
Wednesday, August 15
Wednesday, June 27
Tuesday, June 19
Tuesday, June 12
Tuesday, June 6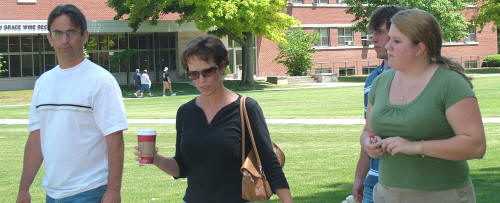 New students begin to find their place
with Advising & Registration Days
Manchester's newest students – the first 88 of them and their parents (and a few grandparents, little sisters, girlfriends and boyfriends) – began their college careers June 6. At Advising and Registration Day, the first-year students met one-on-one with faculty, settled financial details, smiled for their ID photos and registered for classes.
The rest of their classmates will fill three more Advising & Registration Days throughout June, as Manchester College builds its Class of 2011.
The College anticipates 350 new students this fall, a 13 percent increase in class size, said Stuart Jones, dean of enrollment. An intense campus-wide focus on enrollment, and restructuring of the admissions team appears to be paying off, he said. Manchester is on pace to make its 2007 goal, and to enroll its largest first-year class in more than 15 years.
Advising & Registration Day is a full schedule, beginning at 8:30 a.m. Students and their parents learn about the importance and support the College places on academic success and what to expect living on the Manchester College campus. They'll also talk with financial aid experts, meet with faculty advisors and hear faculty presentations about their majors. At the end of the day, students register for classes.
They will move into their residence halls Aug. 26 for three days of new-student orientation to further prepare them for a successful and fulfilling time at Manchester College. The 119th year of the liberal arts college in North Manchester, Ind., begins Aug. 29.
Other Advising & Registration Days, all with the same schedule, are: Tuesday, June 12; Tuesday, June 19 and Wednesday, June 27. For more information about attending Manchester College, visit www.manchester.edu or call 800-852-3648.