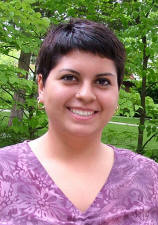 MC education scholar
spending summer
learning ropes in D.C.
A Manchester College education and political science student is hoping to make a mark on the world this summer, with an internship in with the U.S. Department of Education in Washington, D.C.
Already, she's joined the President on stage. Senior Aja Michael is one of only 10 Martin Luther King Jr. Scholars interning in the U.S. Department of Education this summer.
The Hoosier small-town native is learning about policy development, analysis and government in cabinet-level departments. "I am stoked about being chosen and working on the national level of education policy. I am hoping to be able to brainstorm with some of the most influential leaders in the education field," says the secondary social studies education major who has her eye on a future in federal politics – after a stint teaching high school world history and government.
On June 23, the MLK Scholar shared the stage with President George W. Bush as he addressed students at a high school near Washington.
Last spring, Michael completed her student teaching at Morgan Park High School in Chicago. She grew up in Converse, a small town in central Indiana, graduating from Oak Hill Senior High in Meir. The senior expects to complete her studies at Manchester in December.
Michael has more than tested the leadership waters of her college's clubs and organizations, as president of her residence hall council, secretary of Hispanos Unidos and as a charter member of Manchester Association for Discussing History. She has held a student staff position as programmer for multicultural affairs.
"It feels so great to be recognized for all my hard work and I owe much of my success to Manchester college, Manchester's Education Department, and my continually supportive family and friends," says Michael.
For more about Manchester College, visit www.manchester.edu