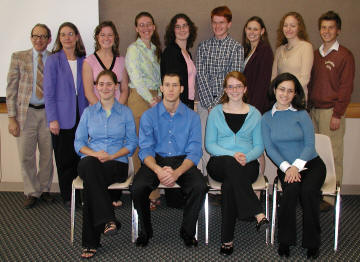 National foreign language honor society
inducts nine MC students, two faculty
(May 2006) Alpha Mu Gamma national foreign language honor society has accepted nine Manchester College students. Two MC faculty members also were inducted into the Nu Gamma campus chapter as honorary members at the April 29 ceremony.
Membership in the nation's largest collegiate language honor society for undergraduates recognizes exemplary performance in language and overall academic achievement, said faculty advisor, Dr. Lynne Margolies, associate professor of modern languages. Manchester College received its charter in 2001.
The 2006 initiates are: Elizabeth N. DeRyke, senior Spanish and math major from Georgetown, Colo.; Anna W. Grady, sophomore biology-chemistry major from Anderson, Ind.; Colleen R. Hamilton, sophomore education major from Rockford, Mich.; Christopher W. Hindsley, sophomore education major from South Bend; Rachel L. Lake, junior communication major from Portage, Ind.; Benjamin E. Leiter, senior peace studies major from New Windsor, Md.; Andrea M. Numbers, junior Spanish and biology-chemistry major from Woodburn, Ind.; Joseph D. Planer, post-graduate student of North Manchester, Ind.; and Kathryn Elizabeth Thompson, senior finance major from Goshen, Ind.
Honorary inductees are Professor John H. Planer, chair of the Department of Music; and Associate Professor Janis K. Fahs, Chair of the Department of Accounting and Business.
Other current members are Rebecca Miller, senior Spanish major from Arbela, Mo.; Katherine Leese, senior education and French major from Kokomo, Ind.; Jaren Schroeder, senior English major from Fort Wayne; and Benjamin Felix, senior Spanish and biology chemistry major from Indianapolis.
Front Row: Anna Grady, Joseph Planer (secretary), Colleen Hamilton (president), Rachel Lake. Back Row: Professor John H. Planer, Associate Professor Janis K. Fahs, Andrea Numbers (vice president), Rebecca Miller, Elizabeth DeRyke, Christopher Hindsley, Katie Leese, Jaren Schroede and Benjamin Felix. Not pictured: Benjamin Leiter