Eight students, Professor Adams enter
foreign language honorary society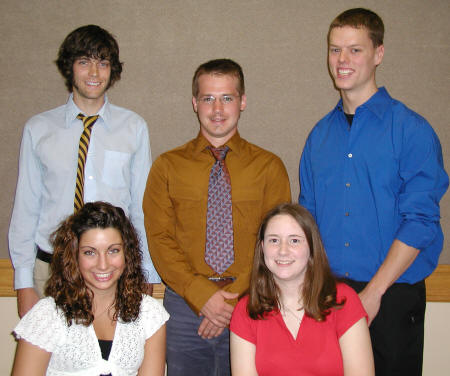 From left: Nicole Hammond, Katy Hobson; Back: Nick Simons, Andrew Leavens, Tim Polakowski. Not pictured: Holli Smead, Emily Hallgreen, Sam Cox
(May 2007) Manchester College's Nu Gamma chapter has inducted eight students and honorary initiate Professor James R.C. Adams into Alpha Mu Gamma national foreign language honor society.
The largest national collegiate language honor society for undergraduates, Alpha Mu Gamma recognizes exemplary performance in language and the overall academic achievement, encouraging interest in foreign languages, literatures, cultures and civilizations.
Manchester's 2007 initiates included May graduates Samuel A. Cox, history and German major from Kokomo, Ind.; Andrew L. Leavens, Spanish major from Milroy, Ind.; Nickolas S. Simons, Spanish major from Bristol, Ind.; and Holli K. Smead, an interdisciplinary major from Harlan, Ind.
Also inducted: Emily A. Hallgreen, junior peace studies major from Fennville, Mich.; Nicole R. Hammond sophomore biology-chemistry major from Mishawaka, Ind.; Katy S. Hobson, sophomore elementary education major from Brownsburg, Ind.; Timothy R. Polakowski, junior social work major from Rockton, Ill.
The honorary inductee is Professor James R.C. Adams, chair of the Department of Art. The 2002 U.S. Professor of the Year, Adams has taught English, Spanish and art during his 50 years on the Manchester College faculty. He reads eight languages and has led student study excursions to Spain, Italy, Guatemala, northern Africa, Peru and other countries.
The April 29 ceremony was led by the modern languages faculty, Drs. Lynne Margolies (Spanish), Janina Traxler (French) and Ingrid Rogers (Spanish, German).
Learn more about modern languages at Manchester College