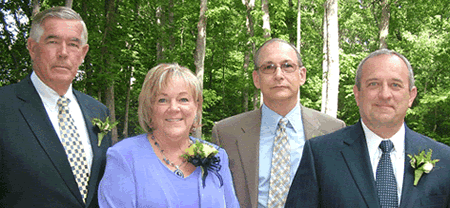 Alumni honorees, from left: William Harper, Nancy Hoffman, Peter Michael and Stan Noffsinger
Manchester College honors four
alumni of great ability and conviction
"God put me here," says Nancy Walker '76 Hoffman of her life's work of enhancing opportunities for persons with mental disabilities.
The executive director of The Association of Retarded Citizens (ARC) of Wabash County, Ind., is among four extraordinary persons of ability and conviction to receive the 2009 Alumni Honor Award of Manchester College. The awards banquet on June 4 culminated the College's annual Alumni Days for the classes of 1939, 1944, 1949, 1954 and 1959.
During Hoffman's 33 years with the agency, she helped launch the first group homes for ARC clients in Wabash and a retail outlet for gently used items. From finding employment and semi-independent living opportunities for ARC clients to integrating preschoolers into neighborhood nursery schools, Hoffman aggressively serves her passion.
The College also honored "everyday peacemaker" Peter Michael '74, influential in the development of Indianapolis Peace Institute, a collaboration of Manchester, Goshen and Earlham colleges. The residential program gives students from around the United States opportunity to study peaceful solutions and to practice conflict resolution in inner-city Indianapolis.
As a resident of the Old Northside Neighborhood of Indianapolis, Michael was a key connection when the Peace Institute began its work in the city. The Manchester peace studies major helped ensure a smooth transition for the Peace House student residence into the neighborhood. Today, Michael – director of grants administration for Clarian Health Partners in Indianapolis – serves as chair of Peace Institute Board of Directors.
General secretary (chief officer) for the Church of the Brethren, Stan Noffsinger '76, sets the spiritual tone, moderating cooperation and mutuality in the denomination, based in Elgin, Ill.
The 2009 Alumni Honor Award recipient brings the denomination's commitment to peace to his participation in the leadership of the National Council of Churches and the U.S. Conference World Council of Churches. The Church of the Brethren's historic roots in peace and justice continue to guide the mission of Manchester College, home of the nation's oldest peace studies program.
Alumni Honor Award recipient William Harper '66, a former member and chair of the College's Board of Trustees, led a $70 million fund-raising campaign that transformed the North Manchester, Ind., campus. The fund drive not only exceeded the original goal by $20 million, but also concluding a full year ahead of schedule.
An accounting major as a Manchester College student, Harper is a retired vice president and controller for Clark Equipment Co. and a former chief financial officer for National Steel Co. He now resides in Scottsdale, Ariz.
June 2009