Manchester College honors four alumni
for their dedication to education, society
NORTH MANCHESTER, Ind. - Two northern Indiana educators, a Chicago inner city psychologist and a corporate wellness expert are the latest recipients of Manchester College Alumni Honor Awards. The college's Alumni Association honored the four during Alumni Days on May 28.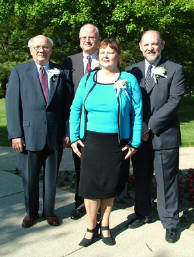 · Daryl Yost, a 1958 sociology and English grad, is well-known for his generous leadership at East Allen County Schools in Fort Wayne and in higher education at Taylor University. Manchester College honored him for his extensive service to education and for his commitment to his alma mater.
· Michael J. Morris, a 1971 health and physical education grad, is principal of Jefferson Middle School in Fort Wayne and was a long-time teacher and administrator at North Side High School. Manchester honored him for his dedication to education and his students, and in appreciation for his recruiting of students to his alma mater.
· Dr. Alexis Lybrook Taubert, a 1971 psychology grad, is a clinical and community psychologist has served thousands of underprivileged and developmentally delayed children and their families in the Chicago area. Manchester honored her for a lifetime of service to society, making a difference not for fame, but for humanity.
· Dr. Dean Grove, a 1967 biology/chemistry grad, is acknowledged nationally for his dedication to employee wellness and preventive medicine. The college honored him for his philanthropy of action and service to his profession.
Daryl Yost taught in the public schools of Richmond, Kokomo and Fort Wayne, Indiana for the first six years of his career, then stepped into administrative roles for nine years before becoming superintendent of East Allen County Schools in 1973.
Dr. Yost joined Taylor University in1983 as its chief fund-raiser, leading one of the most ambitious advancement programs in the Christian school's history. He retired from Taylor in 2003, after serving as acting president, executive vice president and as leader of Taylor's Fort Wayne campus. His leadership is characterized by integrity, competence and commitment to helping students integrate faith, learning and service. During his service to the college, Tayor's endowments grew, as did the Fort Wayne campus, including its enrollment and diversity.
Earlier this year, he joined other Fort Wayne leaders to craft a proposal for an on-line charter school to offer an alternative for children unable to attend traditional schools because of illness, disability, incarceration or expulsion.
Michael J. Morris has recruited scores of strong academic students to Manchester. At North Side High School in Fort Wayne, he was an assistant principal for five years, taught English for 24 years and chaired the English Department. Through the years, he has coached football, gymnastics, baseball and academic teams. He chaired the Indiana State Coaches Association and was 1984 Coach of the Year in Northeast Indiana. At North Side he co-created the humanities course and authored the school's dance curriculum. The National Endowment for the Humanities awarded him a fellowship to study Chaucer and the Canterbury Tales.
Morris became principal of Jefferson Middle School in Fort Wayne in 2001. He also taught at Whitney Young Elementary School.
As a clinical and community psychologist, Alexis Lybrook Taubert is a teacher, a mentor, a trainer - so that others may lift the lives of the disadvantaged, especially those who are African American, Hispanic and Asian.
Head Start programs in Chicago, particularly in multicultural and African-American areas, know her well as a psychologist with a personal mission to contract, train and supervise African-American, Asian and Hispanic graduate students in behavior science to better relate to children, parents and schools that are predominately African-American and Hispanic. Her work takes her into some of Chicago's most-dangerous areas, where she challenges mistrust, poverty, ambivalence, ignorance and racism. Dr. Taubert helps children cope with daily shootings and killings in their schools and neighborhoods.
Dr. Dean Grove, of Aurora, Illinois, has more than 30 years of distinguished service and leadership in family and occupational medicine. He was a leader in corporate wellness and health promotion before most American corporations recognized its benefits.
As chief physician/occupational health for the 100,000-employee Boeing Company, Dr. Grove implemented programs in smoking cessation, weight loss, stress management and back injury prevention. He also developed, administered and evaluated corporate policies for occupational medicine, industrial hygiene, ergonomics and respiratory programs for the 11,000 employees of the global specialty chemical company, Nalco, headquartered in Illinois.
Dr. Grove has served as president of the American College of Occupational and Environmental Medicine and the Central States Occupational Medical Society. He has served on the faculties of three universities. In 1989, he was named a Distinguished Citizen of the State of Washington.
Manchester, with 1,170 students in 45 areas of study, is a Church of the Brethren college in northeast Indiana. For more information about Manchester College, visit www.manchester.edu