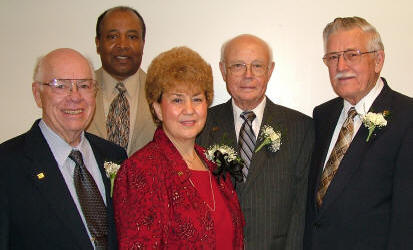 2006 Alumni Honor awardees, from left: Al Deeter, Mel Holmes,
Chris Douglas, Art Gilbert and Bill Eberly
College honors five alumni
for their dedication
to education, society, youth
Three Manchester College emeriti professors, an inspirational Church of the Brethren youth leader and a South Bend community enthusiast and mentor are the latest recipients of Manchester College Alumni Honor Awards. The Alumni Association honored the five during Alumni Days, on June 1, with an evening of testimonials, a reception and banquet.
· Allen C. Deeter, 1953 peace studies alumnus and professor emeritus of religion and philosophy, well-known for his leadership in expanding Brethren Colleges Abroad, honored for his extensive service to international understanding, peacemaking, teaching and mentoring.
· Chris Good Douglas, 1974 Spanish alumna, director of the Youth and Young Adult Ministry of the Church of the Brethren, honored for reaching young people through faith, and in appreciation for her recruiting of students to Manchester College.
· William R. Eberly, 1948 biology alumnus and professor emeritus of biology, who devoted three years to writing the newly published The History of the Natural Sciences at Manchester College, honored for a lifetime of dedication to the sciences at Manchester College.
· Arthur L. Gilbert, 1953 accounting alumnus and professor emeritus of accounting, who led expansion of the accounting department and master's of accountancy degree at Manchester, honored for his dedication to his students, his profession and the program.
· Melvin L. Holmes, 1963 sociology alumnus and trustee, who is enormously involved with the South Bend community, honored for exemplifying the College's mission of graduating students of ability and conviction.
Allen Deeter taught religion and philosophy at Manchester College for 40 years, while serving as executive director of international studies for Brethren Colleges Abroad. He fostered development of eight of the 11 overseas programs. Dr. Deeter also led the College's Peace Studies Institute, was associate academic dean for nine years, and served on the national board of the Fellowship of Reconciliation.
His travels for international understanding and personal life-long learning span 53 countries.
Chris Douglas has spent more than 20 years teaching youth about service and faith. Under her leadership since 1985, participation in youth and young adult programs has grown remarkably, led by the Church of the Brethren's flagship National Youth Conference and exciting expansion of youth and junior high work camps. Douglas has a talent for identifying gifts in youth, making her an effective and engaging mentor.
As director, Douglas has considerably expanded the congregation's Youth and Young Adult Ministry. She continues to send many young adults in the direction of a Manchester College education.
Bill Eberly began teaching biology at MC in 1955 and, under his leadership, the College purchased the Koinonia Environmental and Retreat Center, which brings hands-on environmental learning to thousands of school children in the area. Even after retirement, he continues to lecture, at the College, on other campuses and for community groups.
Dr. Eberly was instrumental in the early planning of the newly dedicated $17 million Science Center. In The Story of the Natural Sciences at Manchester College, published last fall after three years of research and writing, Dr. Eberly shares fascinating details – including the name of every MC science graduate.
Art Gilbert's students remember him as a great professor dedicated to fully preparing them for their chosen profession. Says Gilbert: "I was an accountant who happened to be teaching." He brought Manchester College to the forefront in accounting studies during his 40 years at the helm of the program, with creation of a bachelor's degree in accounting, and a master's component as requirements for CPA licensure changed.
Gilbert and his wife Ellen spend countless hours volunteering on behalf of MC. They step up to help the College meet its challenges, and to generously fund scholarships that support Manchester's accounting majors.
Mel Holmes continues to give his life to serving his community. He is a retired senior buyer at A.M. General Corp. in South Bend, where he developed, implemented and audited the federal affirmative action program for all the vehicle maker's facilities.
Holmes serves in a number of community programs – from Youth Services to the public library to parks and neighborhood boards – and is a mentor and leader toward intercultural relations.
A current member of the Board of Trustees, he also has served on Manchester College's Alumni Board, Centennial Campaign, and made many on-campus class presentations as a successful role model for African-American and Hispanic students.