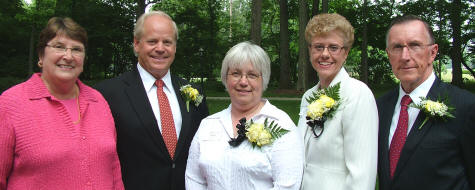 From left: President Jo Young Switzer, J. Michael Jarvis, Kathryn Reid,
Cara Bergen and Dr. Harry Keffer
Manchester honors four alumni
who make a difference
Health care ethics. Caregiving ministries. Classroom best practices. Global entrepreneurship.
The careers of four extraordinary people honored May 31 are diverse and successful, carrying them across the Midwest and the nation, and across oceans. Yet all point to Manchester College, their alma mater, as their igniter in their journeys toward making a difference.
Thursday evening, in a ceremony topping its Alumni Days, a special homecoming for graduates of 50 years ago and older, Manchester College presented its premier Alumni Honor Award to:
Cara M. Bergen of California, a 1987 grad who founded the widely acclaimed Hesperia Institute for ExCEL, which shares nationwide her highly successful method for raising the academic performance of students at every learning level.
J. Michael Jarvis of Franklin, Ind., a 1968 economics and business administration grad whose brainstorm to remanufacture scrap truck engines was just the beginning of an entrepreneurial career in manufacturing and service industries worldwide.
Harry L. Keffer of Terre Haute, Ind., a 1959 chemistry grad, anesthesiologist and long-time member of the leadership of Union Hospital in Terre Haute who is nationally recognized for his work in the ethics of health care.
Kathryn Reid of Richmond, Ind., a 1973 English grad who leads the Association of Brethren Caregivers, has founded a congregation, enormously expanded a network of homeless shelters across Texas and authored curriculums on preventing child abuse.
Manchester College is committed to graduating students of ability and conviction who will make a difference in the world, as have its 2007 Alumni Honorees. For more about the liberal arts college in northern Indiana, which offers more than 55 areas of study, visit www.manchester.edu
More about the 2007 Alumni Honorees
Cara LeValley Bergen, as principal of a struggling 750-student elementary school in Hesperia, Calif., combined her research in best practices with commitment to raise performance of every student – not just students at the bottom of the learning scale. She founded Hesperia Institute of ExCEL, which remains within the Hesperia school district but consults and educates trainers in school districts across the nation, receiving acclaim from U.S. Secretaries of Education for being a perfect fit for such federal guidelines as the No Child Left Behind Act.
Mike Jarvis saw the possibilities of remanufacturing International Harvester's scrap engines in the late '70s. Soon, he bought the project, called Franklin Power Products, from his employer. Franklin Power became a touchstone for ventures in the United States and Canada, from fuel systems to marine drive systems. Along the way, Jarvis slipped into USAC racing, with recent championship success. His latest ventures range from real estate development to international satellite communications. Jarvis remains committed to Manchester College, in philanthropy and service on the Board of Trustees.
Dr. Harry Keffer served on the leadership team of Union Hospital in Terre Haute for three decades, as chief of surgery, chief of staff, chief of anesthesia, president of the medical-dental staff, member of the executive committee and Board of Directors and chairing the ethics committee. He taught medical ethics, genetics and airway management at Indiana University School of Medicine. With his wife, Jan, the Keffers are widely sought for their lectures, seminars and consulting on medical ethics – particularly the ethics of end-of-life decision-making and genetic testing.
Kathy Goering Reid is a familiar voice for the caring ministries of the Church of the Brethren. She has served on several task forces concerned with child welfare. As former executive director of the Texas Homeless Network, she expanded its support of homeless centers and networks across the state, at the same time founding a Mennonite congregation. As executive director of the Association of Brethren Caregivers, she fosters a ministry of giving and receiving care, connecting and under girding persons and communities in their lifelong journeys toward wholeness.