Tell me more about MC Alumni Tours!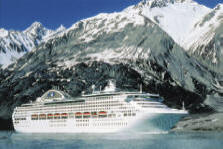 Manchester Alumni Association hosting
tours of Alaska, Greek Isles in 2006
Manchester College's Alumni Association is offering the glaciers of Alaska and the magnificent ancient sights of Greece in two exciting tours in 2006. Both tours are open to anyone who would like to join the alumni travelers.
Hosts of the November 2006 tour of Greece and the Greek Isles are Dr. David A. Waas, professor emeritus of history and his wife, Becky. The popular tour guides and lecturers will lead a Nov. 8-20 experience of Greece, the Greek islands in the Aegean Sea and the coast of Turkey. Travelers will see the ancient historical sites that inspired our federal buildings in Washington, D.C., visit museums and monasteries and experience the beautiful countryside and unique villages.
"These tours offer a great variety of activities that appeal to the interests of many of our alumni, plus they're great tours!" promises MC Alumni Director Gary Montel, who will host the Heart of Alaska cruise June 10-23.
The Alaskan travelers will visit Vancouver, Glacier Bay, Juneau, Denali National Park, and many other sights, including Fairbanks. The trip includes a seven-day voyage among the glaciers.
For details and brochures, and to sign up for either tour, contact the Manchester College Alumni Office at alumnioffice@manchester.edu, 260-982-5222 or toll-free at 1-888-257-2586.