Junior recital May 6 features
baritone Andrew Haff
Baritone Andrew F. Haff will fill Wine Recital Hall with a song cycle from texts of Robert Lewis Stevenson for his junior recital on Saturday, May 6 at Manchester College. Haff will perform all nine pieces of Ralph Vaughan Williams' Songs of Travel. The free performance begins at 7:30 p.m.; reservations are not necessary.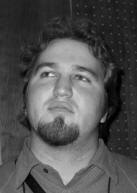 Haff, whose rich baritone is becoming a signature of Manchester choral concerts, actually is a history major from Westminster, Md. His pianist for the evening is senior music major James Hutchings of Wabash.
Haff soloed with the College's winter and spring choral concerts this year and was Capt. von Trapp in a sold-out College-community production of The Sound of Music last spring. He also is on the Dean's List.
While Haff is accustomed to grand venues with large stages and bright lights (and thus, an invisible audience), the 170-seat Wine Recital Hall presents a fresh challenge.
"More intimate settings where I can see everyone and they are very close to me can be a little more nerve-wracking," he said. "Because of this, I chose a song cycle that demands a lot from me but doesn't require me to be in perfect condition in order to sing it well. This will, hopefully, get me accustomed to singing for extended periods of time in front of many people and will enable me to stretch even further with future recitals."
A reception for Haff will follow the recital, in the adjacent Link Gallery.