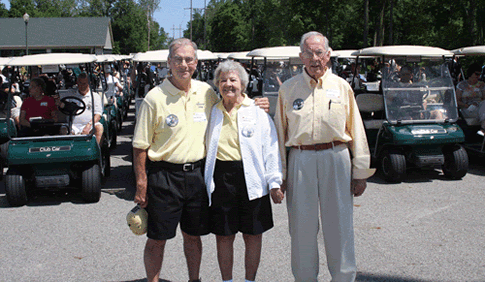 Ken Metzger, Dortha and Til King have led the golf outing for 20 years.
Thanks a million!
Friends and alumni bring amazing success
to annual golf outing for Spartan athletics
A popular annual golf outing of alumni and friends has gathered $1 million for Manchester College athletics – an unimaginable success when three alumni first gathered friends 20 years ago on a northeast Indiana golf course to raise $300.
The Friends of Manchester College Golf Outing on June 12 netted $123,200 to hit the $1 million mark in total contributions over the 20 years.
"The Manchester College golf outing in Auburn, Ind., is one of the premiere golf outings in the Midwest," said President Jo Young Switzer."The full-day event combines impressive golf competition with generous support for facilities and equipment for student athletes at the College."
Each year, the contributions have climbed, helping the College's Athletic Department develop teams and student-athletes into regional and national champions and All-Americans. The golf outing has provided Manchester College student-athletes with new uniforms, batting cages, track and field equipment, Stauffer-Wolfe Arena improvements and fitness center equipment.
Persistent in connecting with returning golfers and donors – and continually discovering new friends for the College, Ken Metzger '67 of Auburn kept record donations coming in year after year. Organizing the success from the very first tee 20 years ago were Til '47 and Dortha Martz '47 King of Auburn. With $1 million achieved, the trio is retiring, handing over administration of the Friends of Manchester Golf Outing to the College.
"The golf outing success is 100 percent the result of the good leadership of Ken Metzger and Til and Dortha King," said President Switzer. "They rolled up their sleeves to find supporters, and then they treated those friends like members of the family. All of us at Manchester College are grateful for their commitment to our students."
Greg Hollenbaugh '05 has competed in the last three golf outings. "I never realized what an impact the outing had on the Athletic Department as a student-athlete," said the former catcher for Spartan baseball. "My first year of playing (golf) for Ken opened my eyes to what an important part the outing plays in the Athletic Department's success as far as uniforms, game-day and training equipment.
"The friends Ken has brought to the outing, some of whom graduated from other colleges, are outstanding and some of the greatest supporters, and I look forward to many more years of giving to Manchester College athletics."
Supporters of the event include alumni and friends of Metzger and the Kings who have become consistent donors to Manchester College, said assistant athletic director Jeremy Markham, who will share leadership of future editions of the Friends of Manchester College Golf Outing. While many supporters compete in the golf outing, others are hole and gift sponsors, or have never golfed, Markham noted.
The Friends of Manchester College Golf Outing is traditionally on the second Friday in June. For more about the event, to donate or to help with donor connections, contact Coach Markham or Jay Nussel, executive director of development.
June 2009