Grammy winners BeauSoleil bring Cajun pulse to Cordier on Feb. 17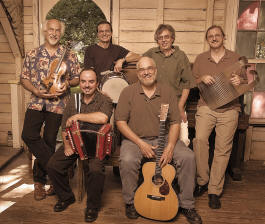 Grammy winners BeauSoleil avec Michael Doucet, among the best-known Cajun musicians in the world, are coming to Manchester College on Thursday, Feb. 17. The potent Cajun music that is both deeply traditional and vibrantly futuristic will fill Cordier Auditorium at 7:30 p.m. for the public performance.
BeauSoleil and Doucet will arrive on the heels of the 47th Grammy awards ceremony Feb. 13 in Los Angeles, where their latest recording Gitane Cajun (Gypsy Cajun) on Vanguard Records is up for Best Traditional Folk Album. It is the group's 10th Grammy nomination. The group won a 1997 Grammy for their album L'amour ou la Folie (Love or Folly) on Rhino Records.
BeauSoleil blends the rich Cajun traditions of Louisiana with elements of zydeco, New Orleans jazz, Tex-Mex, country and blues into a satisfying musical recipe. From The Grand Ole Opry to Newport Folk, from concert hall to dance floor, the music of BeauSoleil has captivated audiences the world over.
Michael Doucet, a fiddler, singer and songwriter, plays dozens of gigs with BeauSoleil every year and gets massive exposure on NPR – including a long-running relationship with "A Prairie Home Companion." In addition to the violin, he plays the guitar, accordion and mandolin. The band BeauSoleil is comprised of singer David Doucet on guitar, Jimmy Breaux on accordion, Billy Ware on percussion, Tommy Alesi on drums and Al Tharp on bass, fiddle, banjo and electric guitar.
Tickets for BeauSoleil avec Michael Doucet are $7; and $5 for senior citizens and non-MC students. For reservations, call 260-982-5551 or arrive early to ensure a good seat.
The 47th Annual Grammy awards telecast is scheduled for 8 p.m. EST on Feb. 13 on CBS. For more about BeauSoliel and Michael Doucet, visit The Rosebud Agency website at www.rosebudus.com
For more about Manchester College, visit www.manchester.edu