Biology project is un 'bee' lievably
sweet for two first-year students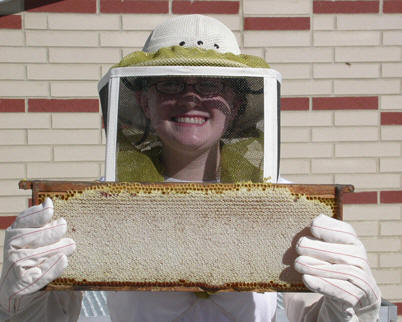 Emily Abraham displays a frame of honey comb from a hive atop the Science Center.
A science project is creating a buzz on the Manchester College campus … literally! Two first-year students – Rebecca Moore and Emily Abraham – are tending a bee hive on the roof of the Science Center.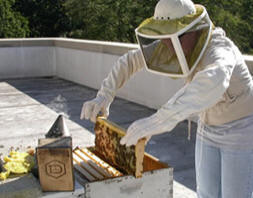 "I like to get students involved their first semester in some sort of small research project," says Dr. Jerry Sweeten, assistant professor of biology and director of environmental studies. For their Introduction to Biology project, Moore and Abraham chose beekeeping because they've both experienced bee swarms.
The two biology-chemistry majors are enjoying the independence the project requires. "It's all on our own," said Moore, of Geneva, Ind. Some first-years and even older students might have been scared, but not this relentless pair. "I'm excited about it," said Abraham, of Jackson, Mich.
Over the course of this semester and perhaps into next spring, Moore and Abraham will gather honey and do their bee research. They are trying to learn more about two strains of mites that are becoming a big problem in the States. The mites were carried over on "killer bees" from Africa and live in the bees' throats or on their bodies.
They are very deadly, says Dr. Sweeten. "When I started (bee farming), we were losing maybe 10 percent of the hive during winter. Now it's more like 90 percent (because of the mites)." So the results of the research of these first-year students could be far-reaching, he notes.
Moore's and Abraham's first lesson: A bee … isn't always a bee. What people think of as traditional honeybees are in fact yellow-jacket wasps. Bees are darker than their wasp look-alikes and can even seem to be brown-and-black striped instead of yellow. Bees gather around nectar and pollen, while wasps are drawn to soda cans and apple cores, for example. So that pesky insect flying around you at picnics is probably a wasp, unless your picnic happens to be in a flower garden.