Manchester is a great choice,
leading college guides tell students

Class sizes and faculty who invite close connections with students continue to cement Manchester as a "Best College" in the U.S. News & World Report rankings. The popular guide for college-bound students ranks the northern Indiana college 18th among Midwest schools that focus on undergraduate degrees.
U.S. News & World Report ranks 319 colleges in the "baccalaureate" category of its 2009 America's Best Colleges, using such measures of excellence as student-faculty ratio, class sizes, test scores, peer assessment and alumni giving. The 2009 ranking marks Manchester College's 14th consecutive year as a "Best College."
"The placement ranking was really big for my parents," said Mercedes Plummer, who enters Manchester College as a physical education major this fall. "Just everything about MC sounded so good. Right away, I was hooked," said the Warsaw High School graduate.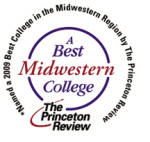 The Princeton Review also lists Manchester College as a "Best in the Midwest." Students surveyed by the educational services company for its guide had high praise especially for Manchester's faculty, including:
"Professors are the best part of the school, being knowledgeable, capable, and approachable."

They are "passionate about what they do and that shows both in and out of the classroom."

"Professors care enough to help you find a summer internship, write you emails to check in with you while you are studying abroad, and are always willing to offer a listening ear."
Manchester, with 1,036 students last year, enriched students with a 13:1 faculty ratio and the majority of classes had fewer than 20 students. Such proximity to teachers presented exciting opportunities for faculty mentoring and academic challenges.
Manchester alumni proudly support those opportunities with a 32 percent giving rate – one of the highest giving levels among Midwest "Best Colleges" ranked by U.S. News & World Report.
For more about the magazine's 2008 Best Colleges guide, visit www.usnews.com. More about The Princeton Review's "Best in the Midwest" is at www.theprincetonreview.com.
For more about Manchester College, and to visit campus, connect at
www.manchester.edu