Manchester keeps getting better,
says annual "Best Colleges" issue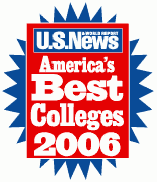 Manchester College is among the top 24 "Best Colleges" in the Midwest, as it continues to gain attention as a "Great School at a Great Price" among the critics at U.S. News & World Report. The college is an outstanding value – 5th in the Midwest among schools in its category, the magazine reports in its annual "America's Best Colleges" issue that hits newsstands Monday, Aug. 22.
The rankings are an aid for college-bound students. "We do it to help you make one of the most important decisions of your life," U.S. News & World Report tells high school students. "Your investment in a college education could profoundly affect your career opportunities, financial well-being, and quality of life."
Manchester College, with 1,075 students last school year, is 24th among "comprehensive colleges" in the Midwest. The rankings are based on 15 categories ranging from class sizes to percent of full-time faculty to alumni giving rates. About 56 percent of Manchester's classes have fewer than 20 students, enhancing student-faculty connections and personal attention. In addition, 92 percent of MC faculty members are full-time.
"Being named a great school at a great price means that we offer both high-quality academic programs and real affordability for families," said David F. McFadden, vice president for enrollment, planning and marketing. "We offer a personal touch that's hard to match at a big school, but without a big price tag."
To earn its No. 5 ranking among "Great Schools/Great Prices," the magazine considered a number of financial factors, as well as Manchester's Top 25 position overall. About 79 percent of Manchester College students received financial grants based on need in the last school year, averaging 50 percent of their total costs. That brought their average costs down to $13,315.
In addition, Manchester is ranked No. 11 in the Midwest for "Least Debt" -- graduates who have the lowest college debt. The magazine reported that 54 percent of MC graduates are still paying off their college loans, with an average debt of $14,180.
Manchester was ranked among comprehensive colleges – schools that focus on undergraduate education and offer a range of degree programs in the liberal arts and in professional fields such as business and education.
Manchester alumni apparently agree with U.S. News & World Report, by generously remembering their alma mater. Last year, 30 percent of alumni made gifts to the college, supporting major construction projects and The Manchester Fund, for example. The giving rate was among the highest of the Midwestern colleges and universities ranked.
This is the 11th consecutive year Manchester College has received "Best College" listing by U.S. News & World Report. Last year, the college was 33rd in overall rank and 7th for Best Value.
"We're always pleased to be ranked among the best regional colleges in the Midwest," said McFadden. "Especially gratifying is that this year, our peers at other Midwestern colleges ranked us among the top 15 schools in their classification. People who know education and who know us best put us near the top."
Manchester, a Church of the Brethren college, offers in-depth studies in more than 34 fields of study. For more about the College, visit www.manchester.edu
For more about the U.S. News & World Report's "America's Best Colleges," visit www.usnews.com