New student development leader will greet
Manchester College students this fall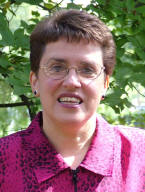 NORTH MANCHESTER, Ind. (Aug. 9, 2004) – Manchester College's new vice president for student development brings considerable experience in student support leadership to the position.
Beth E. Sweitzer-Riley joined the senior management team of the northern Indiana college on Aug. 2, and already is moving full speed into Manchester College's 116th year. She succeeds William Rhudy, who left the college last spring.
The Office of Student Development provides non-academic support systems focused on helping students thrive at Manchester College. The department includes Residential Life, Counseling Services, Student Activities, Safety and Security, Health Services, Campus Ministry, Career Services and Multicultural Affairs.
"The people here are tremendous," said Sweitzer-Riley. "They are so welcoming and committed to the Manchester College community. I am looking forward to meeting the students and working to maximize their college experience by connecting academics with student development in a more tangible way." Classes start Wednesday, Sept. 1.
Sweitzer-Riley comes to Manchester from Wilson College for women in Chambersburg, Pennsylvania, where she was vice president for student development and dean of students. For about 16 years prior to that, she held key leadership roles in student support and development at The University of Findlay in Ohio.
Wilson's enrollment is about two-thirds the size of the student body of Manchester, which is a co-ed Church of the Brethren college with about 1,100 students. Sweitzer-Riley also held student services posts at State University of New York at Binghamton.
She holds a Ph.D. in higher education administration from Bowling Green State University in Ohio, a master's in counseling education from Millersville State University in Pennsylvania and a bachelor's degree in education from Elizabethtown College in Pennsylvania. Elizabethtown also is a Brethren college.
For more about Manchester College, visit www.manchester.edu