DNA research?
Quality control?
Environmental tests?
Careers start here, with Manchester's
exciting new biotechnology major
Orthopedic engineering, drug testing, DNA research, forensic CSI-type analysis, quality control … the futures are as diverse as the coursework for students majoring in biotechnology at Manchester College.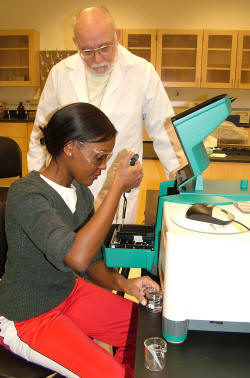 Recognizing a surge in demand for non-medical technicians who have broad training in the laboratory sciences, the College has designed a biotechnology major to serve industry, governmental agencies and private testing laboratories.
Key is real-world experience: research and required internships in the final year of the program, said Professor David P. Kreps, chair of the Department of Biology. Students may train with a state agency like the Department of Natural Resources, an area orthopedic manufacturer or a private drug-testing lab, for example. In addition, students may work side-by-side with Manchester faculty on their projects and research grants.
"This is fantastic news for the college. This major will become highly marketable," said Earle R. Hanlin, vice president/human resources for DePuy Orthopaedics Inc., based in Warsaw.
"The next major breakthrough in the treatment of osteoarthritis and soft tissue injury will most likely come from advances in biotechnology," said Hanlin. "Orthopaedic companies and research centers around the world are working feverishly to unlock the science that will induce tissue regeneration. The day will come when we will be able to regrow tendons, ligaments and cartilage in the human body.
"It's an exciting time in biotechnology and the demand will continue well into the future."
Manchester's new major is interdisciplinary, combining core coursework in biology, physics, chemistry and math with engaging laboratory studies in genetics, cellular and molecular biology, DNA science, forensic analysis and plant taxonomy, for example.
The College's life sciences offerings are so extensive, only one additional course was needed to develop the new major, Dr. Kreps said. "We already had a lot of technical courses – we just needed to repackage them." In designing the major, the College asked potential employers what skills they require of laboratory technicians, and about available internships and the job market for graduates with a degree in biotechnology.
MC's new major is designed for flexibility, adapting to the needs of the individual student. Core courses cover the basic skill requirements common to the diverse career opportunities available to laboratory technicians. The skill set or analyzing pharmaceuticals, for example, is different from skills used testing orthopedic equipment. The studies are rigorous, to enable students to pursue graduate school if they wish.
With summer and January Session studies and internship, students could complete their degree in three years, entering the workforce or graduate school early.
Manchester continues to offer a major in medical technology that equips graduates to work in clinical laboratories. Seniors in that program intern a year in a clinic at one of the College's affiliated hospitals and take a comprehensive exam. The College also offers a highly successful pre-med program to prepare students for application to medical school.
For more about studying for careers in the life sciences at Manchester College, visit www.manchester.edu