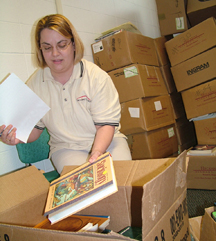 Manchester College donates 9,000 texts
to help new college for Hispanics build library
Manchester College faculty and staff members are donating an estimated 9,000 textbooks to help a fledgling Philadelphia community college for Hispanics build its library. The texts cover subjects ranging from science and education to computers, writing, languages and math. The collection - including cataloging the texts - is a project of the first graduating class of Manchester College's newest degree program, Master of Arts in Contemporary Leadership.
The texts will travel this summer to Nueva Esperanza Center for Higher Education of Eastern University. The school is a collaboration of Eastern University and Nueva Esperanza Inc. to provide a branch campus to serve and empower Hispanic students.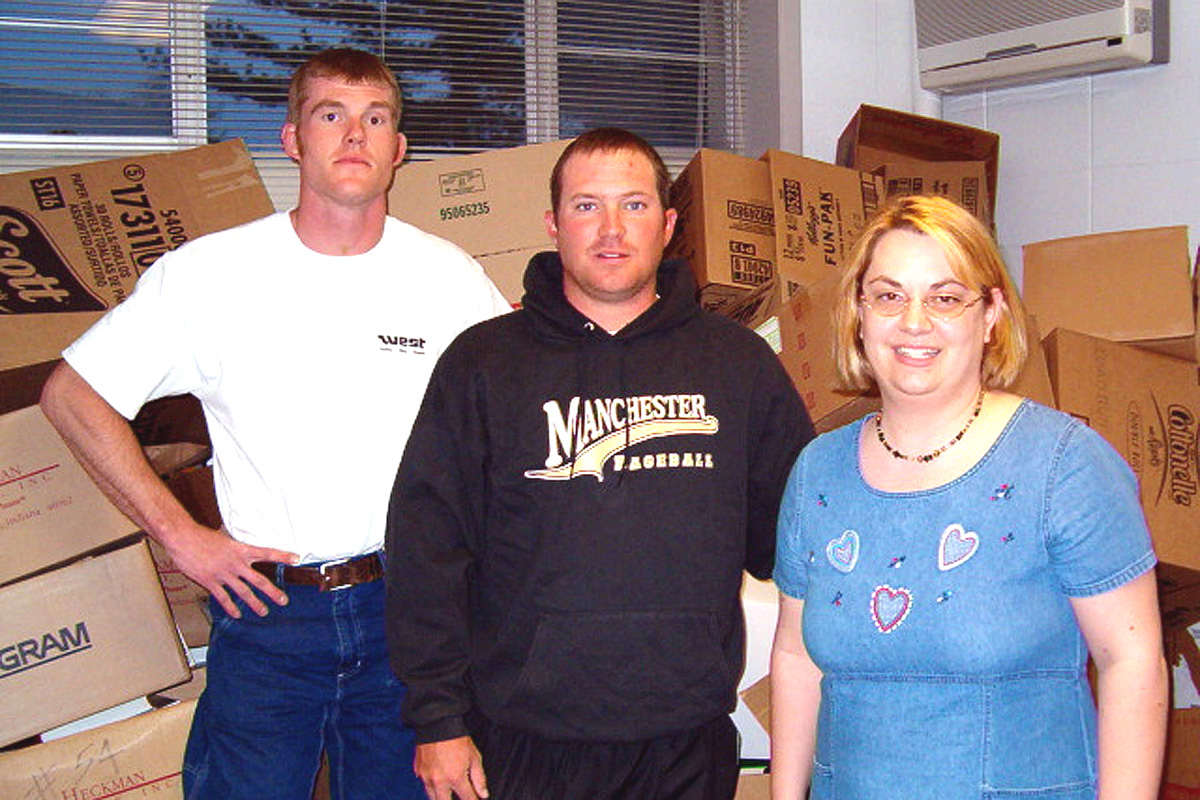 The project is a natural for Manchester College's three candidates for the new leadership master's degree, said Vice President and Dean for Academic Affairs Jo Young Switzer. "Manchester has a rich history of service, and faculty continued that tradition this spring by donating an enormous number of books to this drive."
Many of the donated texts are from Manchester's Science Department, which is "cleaning house" in anticipation of moving into a new, $17 million Science Center in fall 2005. Collection sites were established all over campus, but the halls of the 45-year-old science building were overflowing with texts offered up by an enthusiastic faculty.
Dean Sara Joan Miles of Nueva Esperanza Center for Higher Education of Eastern University said the library is especially excited to receive science and business textbooks. "This gift helps double the total resources we have, and it is strongest in the areas where we are currently weakest," said Dean Miles. "Our students will be able to learn more, think better, and develop further their intellect as a result of Manchester's generosity."
At the Christian community college in Philadelphia, courses are taught in Spanish while the students learn English. By the time they graduate from the two-year program, students will be able to transfer to a four-year college and be prepared to successfully complete their academic courses in English.
Manchester College's leadership students facilitating the book drive are Brian L. Anderson and Justin Bergman, both of North Manchester, Ind.; and Christina A. Sapusek of Wabash, Ind. "They were assigned the book drive to provide them an opportunity to put to use their leadership skills and techniques they have been studying in fulfilling the requirements of the Master of Arts Degree in Contemporary Leadership," said Associate Professor Franklin T. Olive, who teaches accounting and business. "They have virtually completed the assignment in nearly flawless fashion and have exceeded expectations for number of books collected. I am very proud of them."
"The book drive was a fantastic opportunity to help others while experiencing hands-on leadership," said Sapusek. "We were proud to give other students the opportunity for education and learning though books. Thank you to the Manchester College students and staff, for making this outreach of community service possible." All three students are scheduled to graduate May 23.
"As a student/staff member at Manchester College, it was great to see all the support from the Manchester College community," said Bergman, who also is assistant baseball coach at MC.
Several Manchester College student volunteers are cataloging the books, which Eastern Hispanic Community College will send a truck for in mid-summer, said Sapusek.
Manchester is a Church of the Brethren college, offering 45 areas of study to 1,170 students from 29 states and 33 countries. The college offers bachelor's degrees in science and in the arts, and an associate's degree. In addition to the leadership program, Manchester offers a master of accountancy degree. For more information about the college, visit www.manchester.edu