Meet the artist! 11 a.m., Thursday, Nov. 12, Gallery G
8 a.m. to 5 p.m. Monday-Friday
noon to 3 p.m. Sunday
through Nov. 29, 2009
Burman's sculptures "from chaos"
on exhibit at Manchester College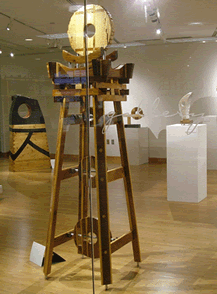 "From Chaos to Clarity," mixed-media sculpture on exhibit in Manchester College's Gallery G, emphasizes the process of materials, says artist Michael D. Burman.
The free exhibit, in the College Union on the North Manchester campus, continues through Nov. 29, when classes are in session and with appointment.
"I have chosen certain materials – wood, metal, stone and glass – because I perceive them as elemental or organic," says the artist, who has exhibited throughout Ohio and Indiana and has taught drawing, painting, sculpture and three-dimensional design regionally. He holds a master of fine arts from Bowling Green University and a bachelor of fine arts from IPFW.
"I like to imagine these objects to have been made, not by me, but by an artisan of some ancient culture as a work of reverence and then left to be discovered by another generation," says Burman of his work. "I hope (viewers) find insight, a bit of calm, or a brief respite from the hectic and clamorous world in which they live."
Gallery hours are 8 a.m. to 5 p.m. Monday through Friday and noon to 3 p.m. Sunday.
For more about this exhibit, or Gallery G, contact Thelma Rohrer, chair of the Department of Art, at 260-982-5327 or tsrohrer@manchester.edu.
October 2009