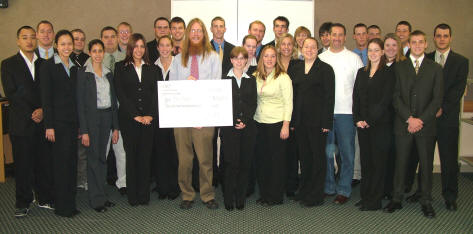 MC students sample corporate world, donate their profits to the North Manchester community
A popular gathering spot for teens and several other North Manchester programs are profiting from a corporation formed by a Manchester College business class.
In the midst of finals week on May 18, the students presented their class project, and presented $3,286 to The Firehouse, which offers live music downtown for teen audiences free of charge. The MC students created a non-profit business called CHET to raise their donation and to gain a sense of what life is like in the real corporate world.
"This is an amazing check. This is so awesome," Firehouse representative Jabin Burnworth told the MC class at the May 18 presentation. The Firehouse at 108 W. Main St. will use the money to repair wall, carpet and equipment damage caused by a leaking roof and subsequent flooding, said Burnworth, adding, "A donation like this makes a huge impact."
The corporation project is a tradition of Professor Tim Ogden's spring Case Studies in Business class, always culminating in a donation to the community. In the five years of the project, MC students have contributed almost $18,000 to local nonprofit organizations, and more than 1,900 hours of service.
This year, the class created corporate divisions (finance, marketing, human resources, etc.), wrote job descriptions, hired their classmates and went to work. They marketed and sold shirts, ball caps and local store/restaurant discount cards. They created spreadsheets and financial reports.
CHET included a community service division, with "employees" amassing more than 547 hours – the most in the five-year history of the class project. Students volunteered at The Firehouse, Town Life Center, Crop Walk, Habitat for Humanity, Fellowship of Churches Soup Kitchen and the campus L'il Sibs Weekend. They also helped the Parks and Recreation Department operate Pitch, Hit and Run – a grassroots competition of Major League Baseball.
"You did a superb job … of the organization, the marketing, the execution of it," Parks Director Dean Nardecchia to the students, who thanked him for his guidance.
"It taught me a lot about employee motivation and finding people with a similar vision as mine," said CHET President Molly Sanders Kurtz, an MC senior. "The lessons I learned in this class about the whole operation of a business will be extremely helpful in my future."
Manchester College offers a bachelor's degree in business and accounting and a master's of accountancy, with a reputation for high pass rates on the CPA exam and high acceptance rates into law schools. The College community has tallied more than 10,870 hours of service this school year. For more about Manchester College, visit www.manchester.edu