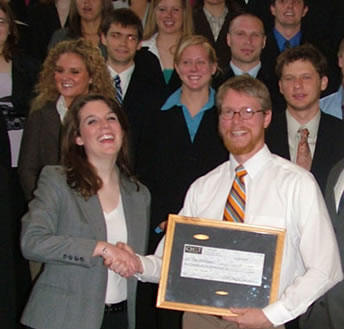 CHET Outfitters President Ellie Davis presents
$1,600 to Jabin Burnworth of The Firehouse
Manchester College mock student corporation puts its profits
toward revival of The Firehouse
A Manchester College business class is setting its students on the path of corporate philanthropy even before they enter the real business world. On May 14, In the middle of finals, students in BUS-474 Case Studies in Business suited up to present the profits of their mock corporation to a local youth hangout very much in need.
On May 14, CHET Outfitters presented a check for more than $1,600 to The Firehouse, a free music venue for area youth that has hosted indie rock bands and local garage bands. Last July, the roof of the former fire station in downtown North Manchester collapsed under heavy rains. The structure was destroyed, the music silenced. Community volunteers are giving their backs and money to the rebuilding.
"We chose The Firehouse because it is a great community resource in need," said senior Ellie Davis, president of CHET Outfitters, whose "employees" sold T-shirts, mugs, fleece blankets and shorts.
It's a tradition: Students in Professor Tim Ogden's class annually create a complete corporation with product, marketing, human resources, accounting and volunteer divisions. Most of the student employees are seniors who will collect bachelor's degrees this Sunday in marketing, accounting or management.
"You are now a part of The Firehouse," Jabin Burnworth, one of The Firehouse creators, told the 2008 Case Studies students at the May 14 check presentation. "This will help," said Burnworth. "When the roof collapsed last summer, it was a horrible situation. We thought, 'This is it, this is all over' (for The Firehouse)."
CHET Outfitters philanthropy extended to 544 hours assisting at retirement homes, schools, churches, animal shelters and campus events, said senior Jaci Simmons, who managed the Volunteer Services Division.
Manchester College, with a reputation for its high first-time pass rates on the CPA exam and high job placement rates, offers a bachelor's degree in accounting, management, marketing, finance and general business. For more about the college, visit www.manchester.edu
CHET Outfitters officers:
President – Ellie Davis, senior marketing major from New Albany, Ind.
Vice President of Operations – Robert Brown, senior accounting major from LaPorte, Ind.
Vice President of Volunteer Services – Chris Ball, senior marketing major from Bristol, Ind.
Accounting Managers – Marci Mickelini, junior accounting major from Fort Wayne; and Casey Miller, senior accounting major from Lafayette
Human Resources Manager – Jake Johnson, senior management major from Batesville, Ind.
Product Manager – Andrea Graft, senior marketing major from Garrett, Ind.
Volunteer Services Manager – Jaci Simmons, senior management major from Pendleton, Ind.
Marketing Manager – Adam Jones, senior marketing major from Rochester, Ind.
Website Manager – Jeff Bates, senior accounting major from Bourbon, Ind.