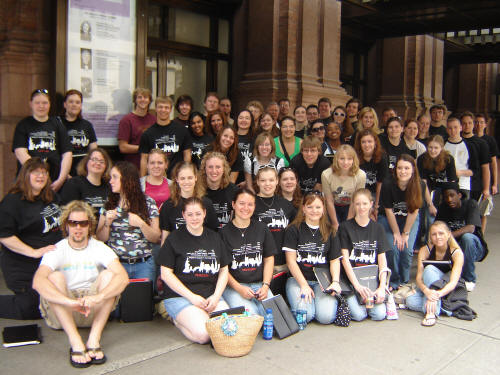 The Road to Carnegie Hall

By Tiffany Berkebile '10


I entered A Cappella Choir auditions, warmed up, and Director Debra Lynn handed me a piece of music. She played a scale in the song's key, looked up at me, and told me to sing without accompaniment. No one had ever expected me to sight read music a cappella in my life. I was terrified I wasn't good enough. It was September 2006.
Less than a year later, I was singing at Carnegie Hall, completely confident of myself and in eight-part harmony with a 50-member choir.
As a first-year student, I found the past year to be the epitome of a "learning experience." I learned that being in a group is better than going solo because you get to share your love of music. I sang in Italian, German, English, Hebrew and Latin. And I learned that laughter has its own kind of melody, always present in our rehearsals.
The most important lesson was one of friendship. As Nicole Andersen '10 aptly phrased it, "Choir isn't just a musical experience, it's a community experience." Allison Hoover '07, my Alto II section leader, observed, "Choir has always felt like family." The sentiment applies to many members, me included.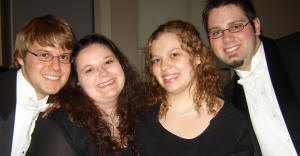 From left: tenor Zach Blatz, soprano Katie McCann, tenor Kacie Gauby and tenor Jeff Combs
The familial attitude of the choir turned decidedly more realistic as we gathered our things and boarded the bus to Carnegie Hall on May 21. We were all traveling within 2 feet of at least five other people, reminiscent of family and the little irritations that arise with such proximity. We finally inhaled our first whiff of NYC after two days of traveling, giving church concerts, and spending the night with our incredible home-stay hosts in Ohio and Pennsylvania.
We stayed in New York City for three days, singing four to seven hours each day and then rushing off to enjoy our precious free time exploring the Big City. It was truly the city that never sleeps and we all tried to rival its energy, doing everything possible while we could. I saw two Broadway musicals, a breathtaking midnight view from the Empire State Building observation deck and an open rehearsal of the New York Philharmonic. I didn't get to do everything that I'd intended. The concert itself was enough to make me grateful I was ever there, though.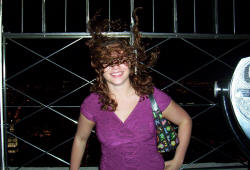 Tiffany discovers it's a tad windy atop the Empire State Building
Looking out into the audience on Saturday night, May 26, I was surprised how small and intimate the Hall is. I had expected grandiosity, but this was a smaller, more-elegant setting than I'd imagined. I looked in awe out into the same 2,800 seats some of the most talented musicians in the world had seen before me. We inhaled the history so inherently present in this Hall, realizing we were becoming a part of that legacy. We opened with an a cappella composition that bounded off of the resonant walls in the fourth balcony and returned to our ears almost instantly.
"You hear yourself just as the audience hears you – and very few halls can do that," explained Dr. Lynn, who had the honor of conducting our choir in a preview concert, and the combined choirs that performed at 7 p.m. "That's why performers all over the world love to play and sing at Carnegie Hall!"
Tenor Robert Bucher '07 performed a solo in Prayer for Peace, which was composed by Dr. Debra DeWitt, an associate professor of music who has since left the College. Many in the choir said afterward that Robbie had never sounded more moving or more heartfelt.
As we sang, eyes swelled with tears, in the audience and on stage. Most of the seniors were weeping as they exited the stage; others joined in the emotion. Back in our rehearsal room, the seniors shared parting words with the choir. Julie Thompson '07 offered practical advice: "We'll probably never be in a choir this good again. It'll never be the same, so suck the life out of it while you can."
Even though alumni often join the A Cappella Choir for tours and performances, it will never be the same. The people will never be the same, the director may never be as amazing as Dr. Lynn or be as connected with her students, and I'll never again be young, in college, and thirsting quite as strongly for new experiences. (Because, hopefully, I'll have had more than my fair share of new experiences by the time I rejoin as a choir alumna.)
I learned a lot going to Carnegie Hall, especially to cherish every little adventure along the way, because while the big events are amazing, they're mostly comprised of their journeys.
The trip to Carnegie Hall took 16 hours on a bus. It began long before that, however, with a year of intensive rehearsal and one final week of five-hour daily rehearsals in New York City. Singing on a stage in the footsteps of such great performers as Tchaikovsky, the Beatles, Pavarotti and Sinatra was worth every minute of time invested. More than that, the time was worth itself. Carnegie Hall wasn't the goal of our hard work: It was the reward.
Our "arrival" at Carnegie Hall was amazing, but the road that led there and continues to lead in many other directions required the heart and soul of A Cappella Choir. That's the real memory to be cherished.