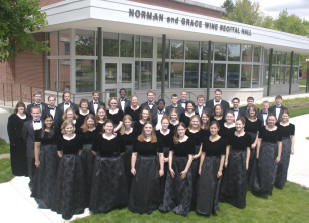 Encore! Manchester's choir returns
to Carnegie Hall in spring 2007 – directed by Dr. Debra Lynn
Manchester College's A Cappella Choir and alumni will return to Carnegie Hall in spring 2007, with the College's music director, Dr. Debra J. Lynn, wielding the baton! And, the program again will feature an original composition by Dr. Debora E. DeWitt, associate professor of music.
Carnegie Hall is one of the world's premier concert venues. The 80-member Manchester choir will join other choirs for the 200-singer performance on May 26, 2007, all directed by Lynn, associate professor of music. The curtain will rise at 8 p.m. on a Saturday night – prime time for New York City.
Lynn has selected DeWitt's Prayer for Peace, which the A Cappella Choir sang during its 2004 Peace Tour of the magnificent cathedrals of Italy and the Vatican. Also on the program is an extended work, The Peaceable Kingdom, by Randall Thompson. The Manhattan Chamber Orchestra will accompany.
"Having Prayer for Peace performed alongside The Peaceable Kingdom is a great honor and very exciting,' said DeWitt. "I am looking forward to hearing the choral clusters in Prayer sung by a 200-member ensemble with a professional string orchestra. I imagine the sound will be crisp and full – I can't wait to hear it."
Manchester College last took the Carnegie Hall stage in 2001, singing DeWitt's Parting in a prelude concert and then joining other choirs for the main event, directed by John Rutter.
"Carnegie is so special because it's a large hall, but it's fairly shallow, so you really feel the presence of the audience," said Lynn. "And the acoustics are so amazing – you hear yourself just as the audience hears you. That's why performers all over the world love to play and sing at Carnegie Hall."
Students and alumni will pay a fee to participate in the five-day, four-night New York City residency. The College will charter a bus, and conduct fund-raisers, Dr. Lynn said. Learn more about music at Manchester College at www.manchester.edu