Ohio, Pennsylvania news release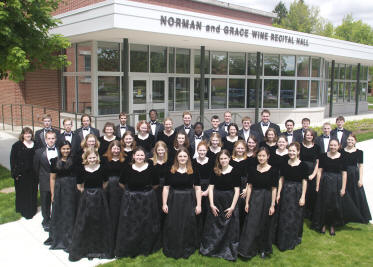 Manchester College choir to perform
in Ohio, Pennsylvania
en route to Carnegie Hall
Manchester College's A Cappella Choir will sing in Akron, Ohio and in Martinsburg, Pa., en route to an encore performance in Carnegie Hall.
The choir of students and alumni has sung in the famous cathedrals of Italy, including at the Vatican. It will perform for two Church of the Brethren congregations as it makes its way to New York City for its Saturday, May 26 performance and residency at Carnegie Hall.
In Akron, the Springfield Church of the Brethren, 3500 Albrecht Ave., will host the choir at 7:30 p.m. on Monday, May 21.
On May 22 in Martinsburg, Pa., the choir will perform at Memorial Church of the Brethren, 210 N. Wall St.
The public is welcome at both performances. A free-will donation will support the choir's expenses.
The 53-member A Cappella Choir, based at Manchester College in northern Indiana, will take up residency at Carnegie Hall on May 23. The choir also performed at the famed venue in 2001. This time, the performance will be at the baton of Debra Lynn, director of choral music at the College.
The church program will include several movements from Randall Thompson's Peaceable Kingdom, and two compositions of Manchester College faculty: Prayer for Peace by Debora DeWitt, chair of the music department, and Earth and All Stars by Debra Lynn.
The A Cappella Choir's most recent CD, evermore & evermore will be available at the church performances.
Manchester is a Church of the Brethren college with 1,056 students from 27 states and 26 countries. For more about music at Manchester, visit www.manchester.edu